Around London before Vegas.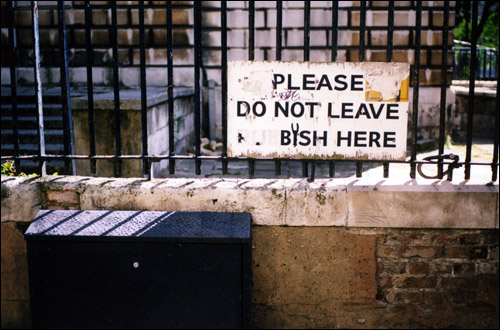 Finally met up with the Arab again. She was not ready for her photo here.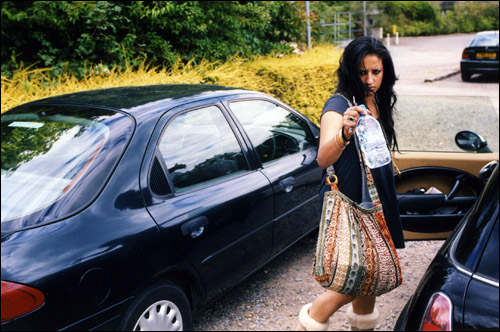 OK photo time.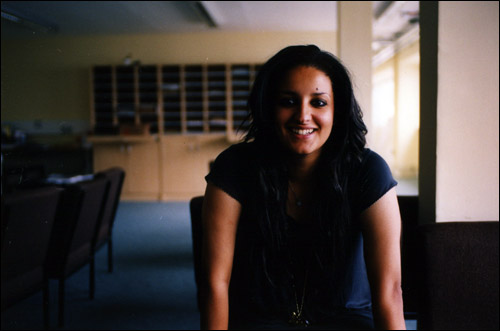 On the train to the airport.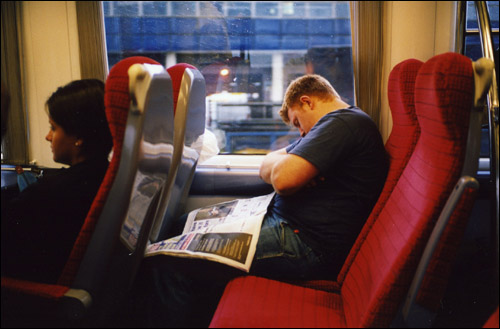 Vegas. We stayed at the Luxor, which is the big pyramid.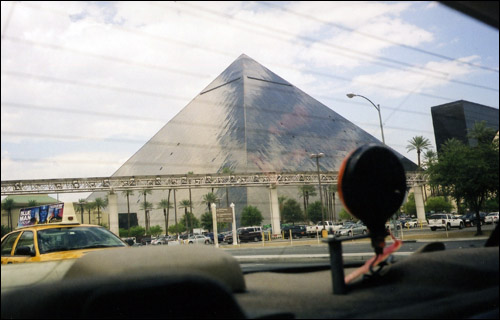 The other person in this bent shot is Gareth. We were in Vegas for his 21st birthday.

Luxor is a good place to stay. We had the morning buffet the first day but after having the Bellagio buffet the next day there was no turning back. The Luxor is at the south side of the strip next to the Mandalay Bay.
We didn't bother to try and adjust to the jetlag; instead we generally went to bed at 5pm and got up at 12am and stayed out all day. If your main priority is general gambling and not poker tournaments/cash games then this is fine, if you're there just for poker then I couldn't comment. If you're hungry in the small hours there is a Caesars restaurant through the left-from-centre entrance, to your left.
Taxis are cheap and a lot of the drivers are real characters. I had a Korean guy who thought I looked Korean, an English guy from East London and a Japanese guy who I spoke with about Japan and Kazushi Sakuraba. He asked me to write 'mate' on his notepad and gave me a hug when I gave him a tip. He was a top guy, I should have made a photo of him.
I didn't forget to make a photo of this guy though. Yes I did give him a hug.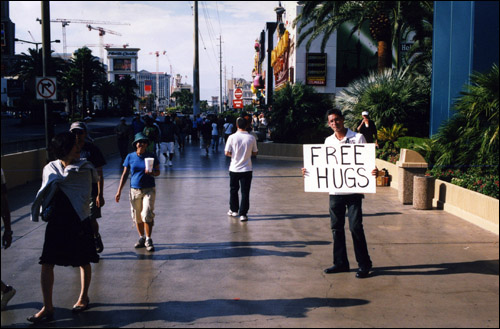 After a few days people tend to become familiar, mainly dealers in your regular haunts. All the dealers/croupiers that served us were cool except for one blackjack dealer in the Bellagio, but i'll give her the benefit of the doubt as I was drunk (more below).
Fremont Street is a $10 ride from the Stratosphere (which is at the North, seedier end of the strip). Worth going there if you've never been. We popped in one of the casinos for 20 mins for some roulette/blackjack then left for the Bellagio buffet. The view from the top of the Stratosphere is also definitely something to see.
For poker tournaments I think the Luxor cardroom is way too small, and the structure is ridiculous. $30 / $50 / $62 tournaments = 800 chips, blinds double every 15 mins. As for ring games I don't play ring myself so I couldn't comment.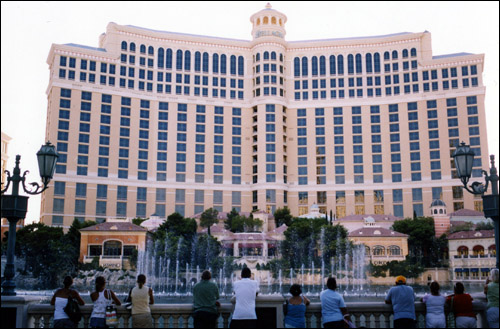 We spent most of our gambling hours between Bellagio and Caesars. I was mainly losing money at blackjack (started off as a total novice) and making money at roulette which was cool.
Don't play blackjack in the Bellagio after 1am when you've had 3x long island iced teas and 2x margaritas because:
You will pay no attention to the dealer or your cards when you see the smoking hot waitress with short black hair in the main aisle
Even if you ARE looking at your cards, you'll be so drunk you'll have no idea what game you are playing. At one point I tried to hit on 20; luckily the dealer realised i was a drunk buffoon and ignored my request.
Note: Don't play three card poker! Horrible game!
Anyway I went to Caesars (how aesthetically fab is their cardroom?) and played the 3pm $65 tournament, dominated the whole thing from early on to come first for $950.
On a break here. The end was imminent. Two stacks of orange 1000 chips at the front there, one stack with a few pink 500s on top. I had about 45k in chips at this point.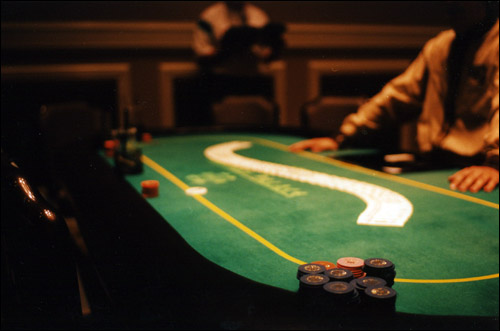 Highlight of the tournament was raising from middle position, chap pushes all in and I call, he flips over K-10 off and I show A-K. He immediately started shouting "FUCK! FUCK! FUCK!", and stormed out of the entire cardroom screaming "FUCK!" all the way. Pretty hilarious. I think the poor guy was playing with money he couldn't afford to lose, or maybe it was because after playing for hours he went out in 11th place when the top 6 got paid. Gareth came 5th for $200.
Under that tent thing you can see in front of Caesars is a bar. They do slush puppy type drinks with or without alcohol. The mango flavour is worth the money! Unfortunately if you drink them too fast you will get brain freeze, that extremely painful feeling behind your eyeball. I couldn't help myself and got brain freeze seven times from one drink.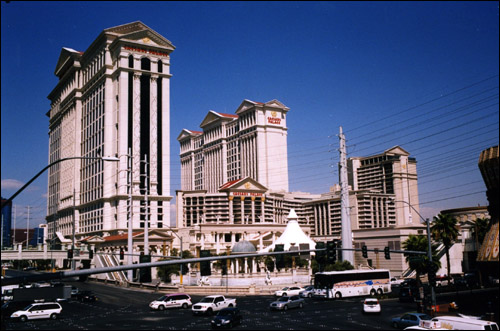 If I were to recommend a place to have dinner, it would have to be Neros steak/seafood in Caesars. We had a starter of snails, for a main I had Alaskan Butterfish and Gareth had lobster, we had a side of macaroni cheese and two long island ice teas. Came to $100 each including tip.
If you play at Caesars or any other Harrahs-owned casino then get a reward card and make sure you hand it over when you put money down on games, once you make 300 points you can get a huge Caesars beach towel. Tip on getting extra points: if you are going to spend $100 on roulette or another game, put down $500 (or more) and just play $100 and let the rest sit there. You'll rack up points a whooole lot quicker. Points are calculated on how much you play and how long you play for.
Lastly, tip anyone who has to bring you anything! Waiters and waitresses. $1 seems to be the norm. Seems puny but they are given a dollar by pretty much everyone they bring a drink to so it adds up for them.
I didn't take my camera out as much as I'd like because I was busy playing the casinos but here's an assortment of images.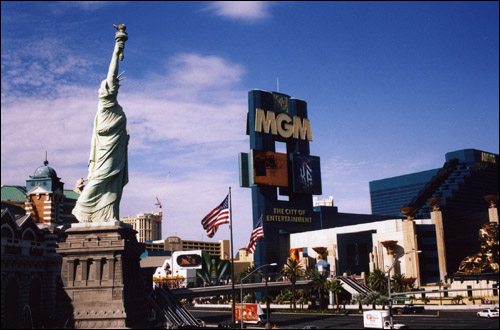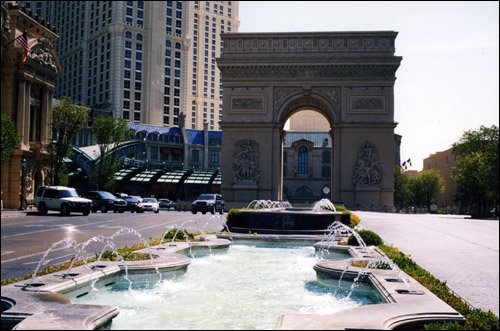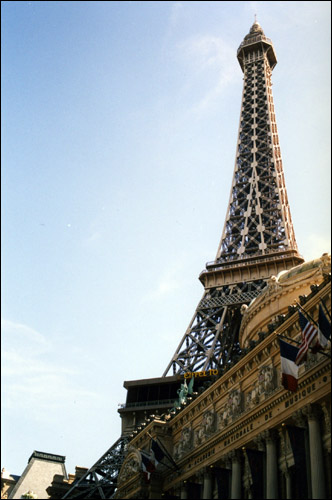 Huge slot machine in Luxor.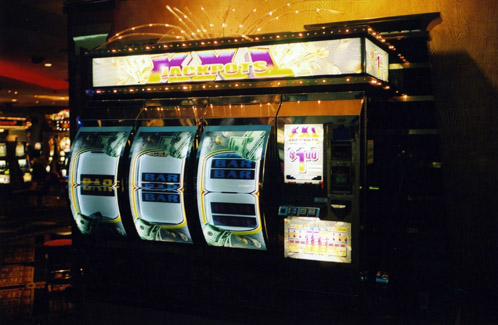 Bellagio restrooms.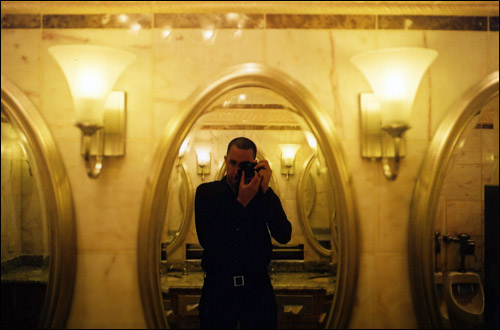 One more thing: If you take a cam to vegas, bring something wider than 35mm. 24mm should be perfect.