May 7th, 2008 by

James
Geeky stuff: Canon EOS 3, 35mm lens; Broken Nikon FM, 24mm lens; Kodak Tri-X 400, Agfa APX 100. Colour photos taken with a Nokia N95.

Highlights from my second visit to Lithuania. I wanted to use a 24mm lens for this trip so I ordered the Canon EF 24mm 2.8; it did not turn up in time so I grabbed my broken Nikon, 24mm lens and this little light meter.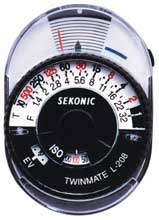 Labas
Lithuania is below Latvia and Estonia. This was my second trip to the former Soviet Republic; a Baltic state with the friendliest of people and a love for basketball. For this visit I checked in to Vilnius' Apia Hotel which I will certainly recommend to others, unlike the hideous hotel we were subjected to in December.
I arrived on Saturday night and went out with my friend Lina (I must get a photo of her next time). I got back to the hotel at 5am. Two hours of sleep later it was time to get a bus to Trakai; but not before cheese and meat pancakes. A man has morals.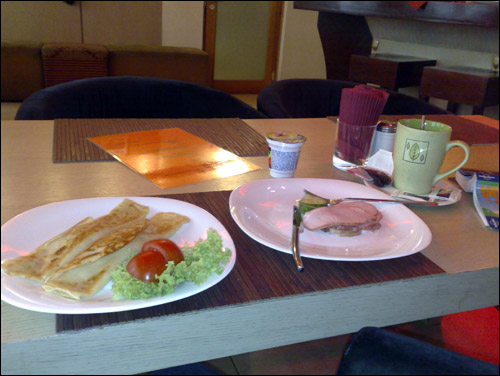 Trakai
Trakai has peculiar graffiti.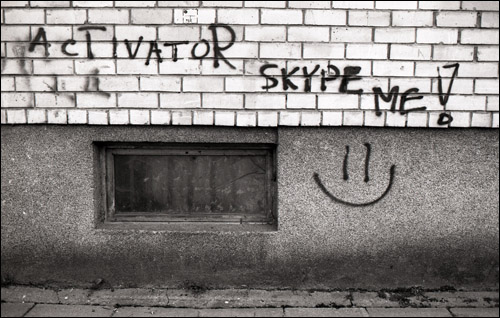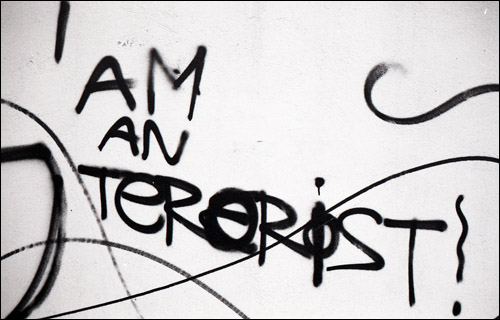 This bin appeared to be the tourist information point. Fortunately I knew where I was going.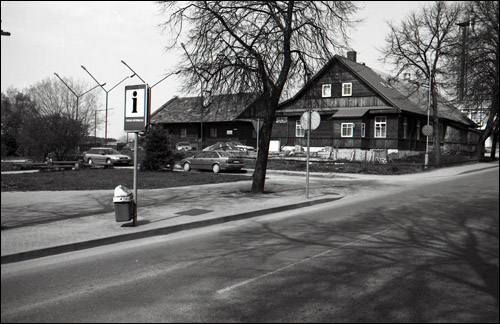 Trakai has a number of lakes, and in one of those lakes is this island castle.

Close up shot with the Nokia N95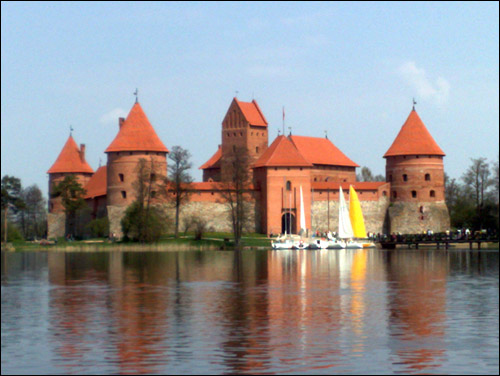 You can get to it via boat, pedalo or bridge. I chose the bridge.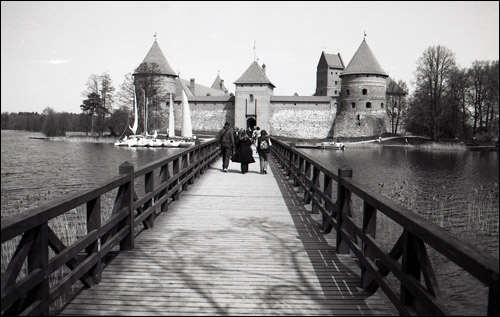 The inside wasn't terribly interesting, but it's still worth a visit.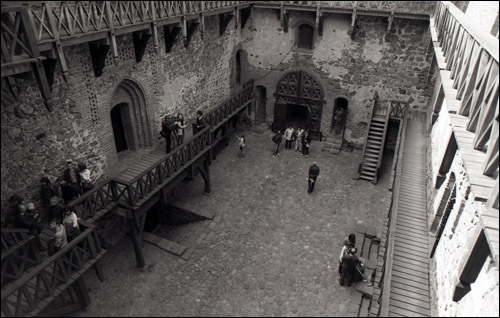 Karaites can be found in Trakai. Karaites are an Ethnic minority originating from Baghdad, of which there are not many left in Lithuania. There are some Karaite kitchens in Trakai; they serve (among other things) pasties called Kibinai. I had a Pork Kibinai (Kibinas su kiauliera in Lithuanian). Looked like a Cornish Pasty, tasted delicious.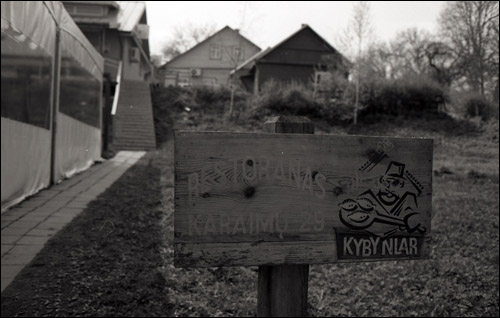 Europos Centras/Parkas
Europos Centras means 'Centre of Europe'. The French National Geographical Institute declared this point, 25km north of Vilnius, the geographical centre of Europe. I went to have a look.
I got a minibus to Europos Parkas, 17km away from Europos Centras, since the Lonely Planet guide I had did not offer directions to Europos Centras.
No cars allowed in the park. Gotta walk 1km through the Pine trees.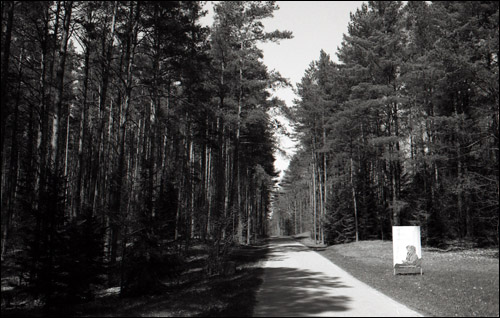 There's a lot of outdoor art here; one piece was made by Tei Kobayashi of Fujifilm. I know Voigtlander Bessas are made by a Mr. Kobayashi. Could these Kobayashis be one and the same???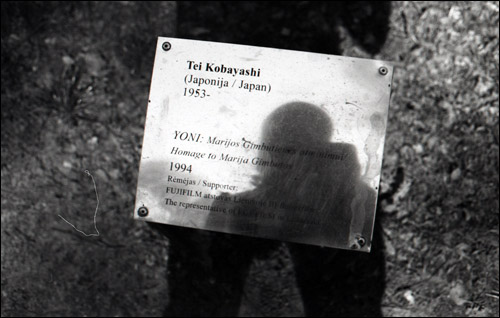 Near the restaurant in the park I came across this, marked on the map given to me by the park attendant as Monument of the Centre of Europe. The small pyramid-looking object represents a central point, and around it you can find the distances to different places from that point. After seeing this I became very confused and assumed this was Europos Centras.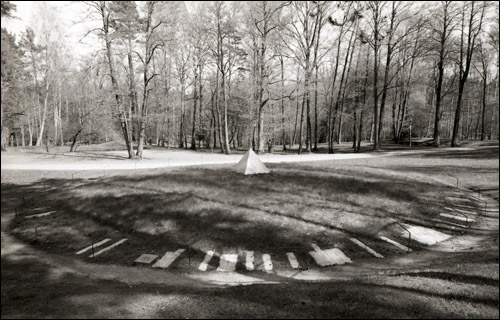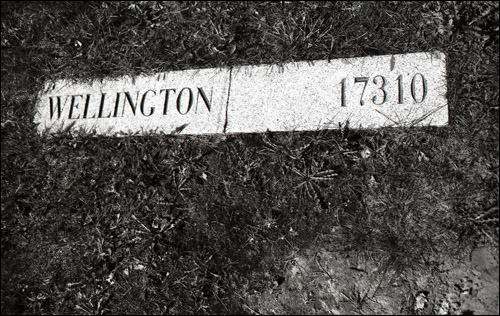 Long way from home.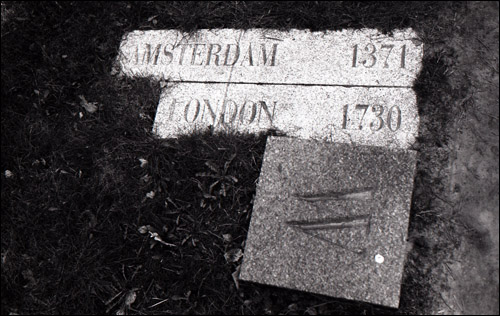 The park restaurant was quite strange. Of the menu I was given, none of the hot dishes were available and they didn't have all the ingredients necessary for the salad I requested. They did however, have the ingredients for a delicious Greek salad…

…and ice cream with warm tart. I didn't like the beer.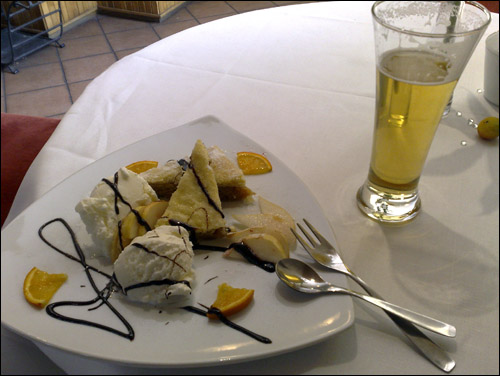 Vilnius
Vilnius is currently my favourite city in Europe. It will be the European capital of culture next year; I highly recommend a visit.
Full English breakfast with a Long Island iced tea. Now that's what I call a breakfast. I left Cozy ever so slightly drunk after this.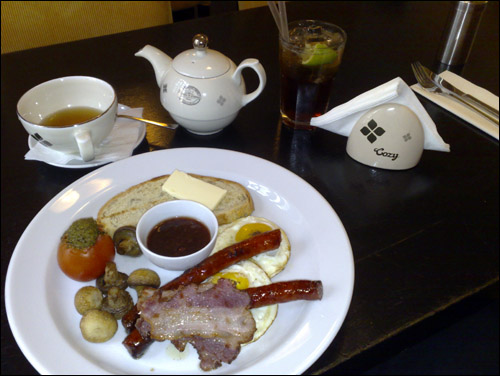 I then went on a quest to get to the Vilnius TV Tower. This took me through a park and then through what can only be described as dense forest. Fortunately I met these guys and they led me to safety and the TV tower. From left to right: Karolis, Ilevus & Evelina.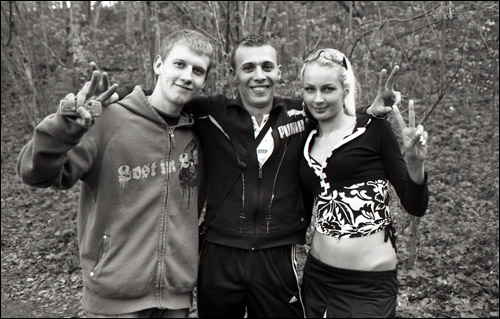 The TV Tower. For some reason photography is not allowed in the tower. Not even on the viewing platform. There is a rotating restaurant on it, so you get an ever changing panorama as you eat. Good stuff.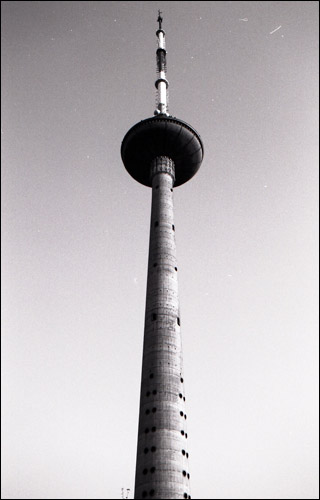 14 people died at the TV tower in 1991 at the hands of the Soviets. Some were crushed by tanks, some were killed when the army fired live rounds into the crowd. There is a memorial at the base of the tower for the fallen.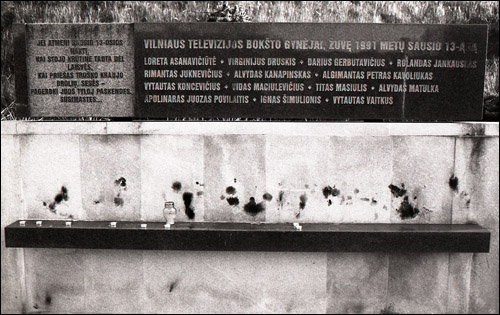 I found a clip from a documentary on youtube showing some video of the event.
This video contains some grisly images.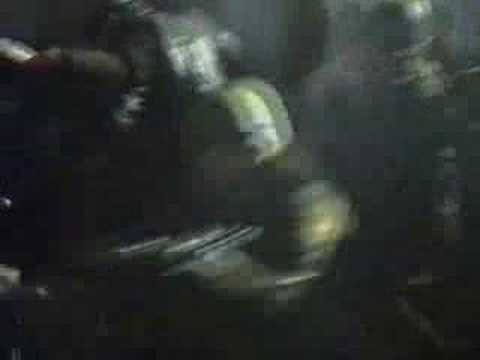 Fined
I decided not to traverse back through the forest on my way back to central Vilnius. Instead I hopped on a trolleybus but wasn't sure how to buy a ticket, so kept the money in my hand for the conductor. To my horror the trolleybuses don't have bus conductors (the normal buses do) and a ticket inspector mercilessly fined me 20 Lt on the spot. A ticket is normally 1.40 Lt (about 35p).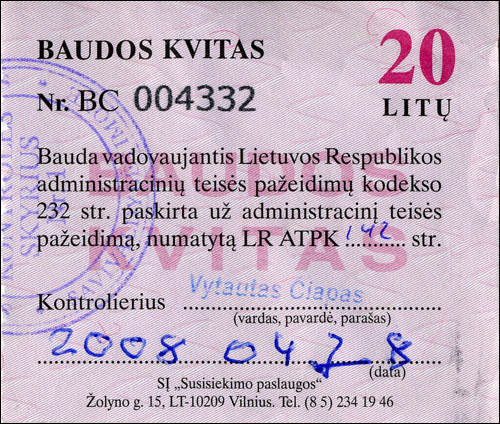 Bastard.
Back to Cozy. Lasagne and a fruit cocktail for lunch. Good stuff.

Užupio
The unofficial republic in Vilnius is changing.
December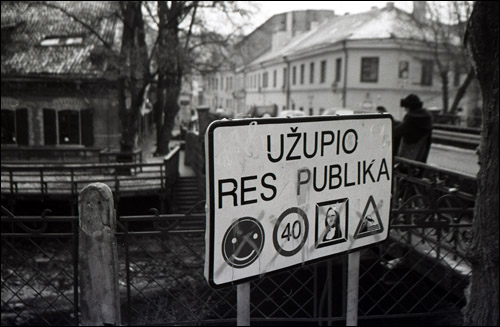 April (need a lens hood)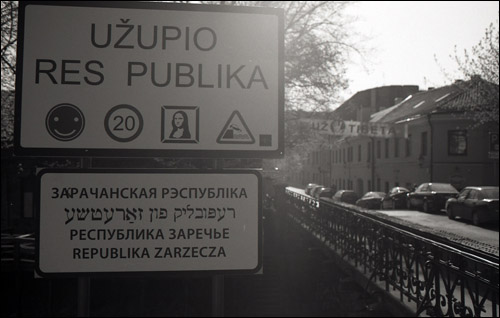 I returned to the derelict area to have a more detailed look.
Previously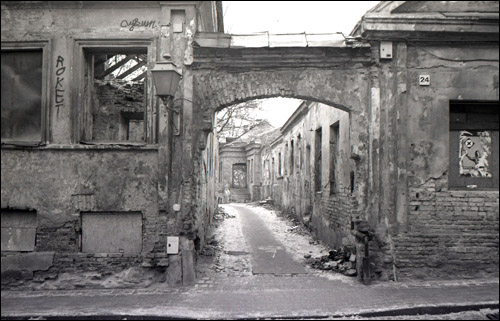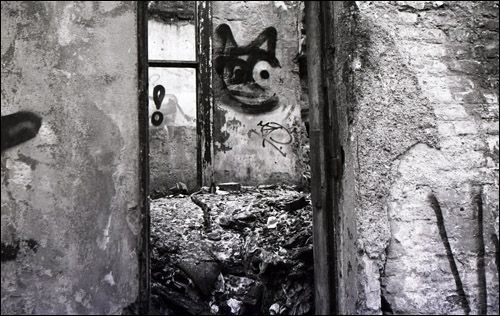 Now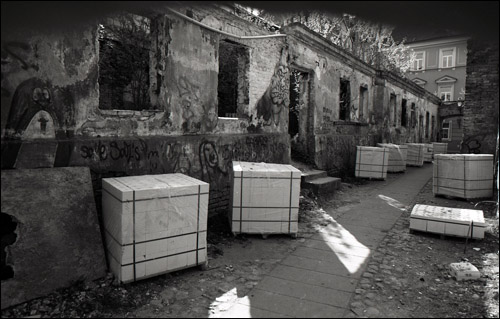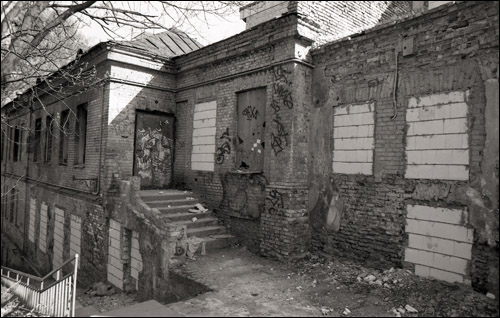 Some people don't like change. Sometimes you've just got to accept it.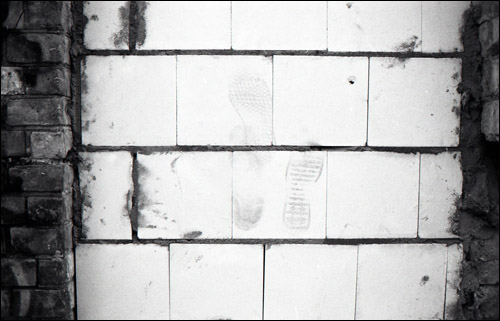 The graffiti continues.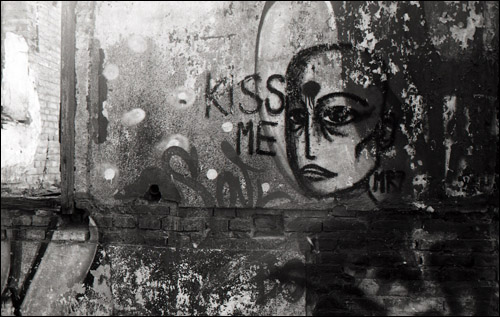 I was surprised to see this in Lithuania. I doubt there is much support for this kind of ideology here; it was probably made by someone for the sole purpose of offending people.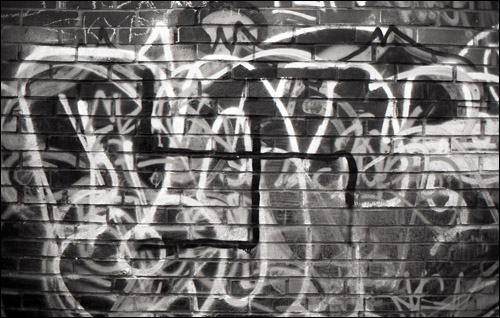 The Užupio constitution. This 41-point document contains such gems as:
3. Everyone has the right to die, but it is not an obligation.
12. A dog has the right to be a dog.
30. Everyone has the right to have brothers, sisters and parents.
39. Do not defeat.
40. Do not fight back.
41. Do not surrender.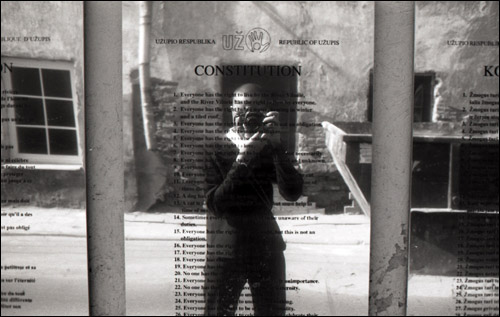 Old Užupio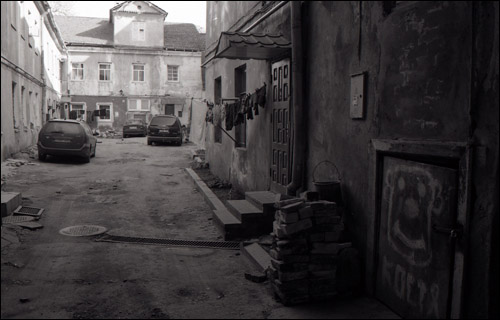 New Užupio. The man on the balcony was hammering some new planks in, when one came loose and fell onto the people below.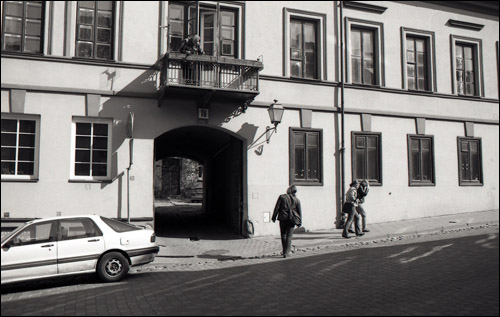 Vintage Užupio

The Museum of Genocide Victims
This building was formerly the KGB HQ in Vilnius. The basement was set up for torture rooms, execution rooms and a prison.
The duty officer's room. Prisoners' papers were registered here. To the left you can see a control panel, used for contacting guards, raising the alarm or contacting the cells.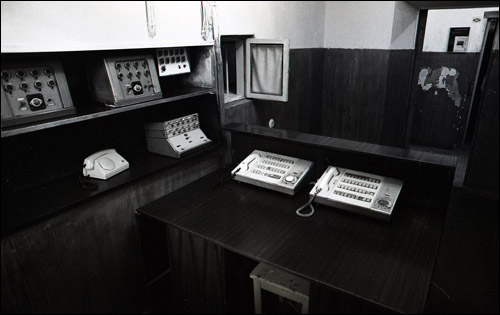 This is the guardroom. The scales were used to weigh food parcels, sent for prisoners by their relatives. There was a weight limit the parcels had to adhere to. Not every prisoner received parcels from their family; some were not permitted to receive anything at all. Prisoners received paltry portions of food from the KGB and 1 litre of water a day.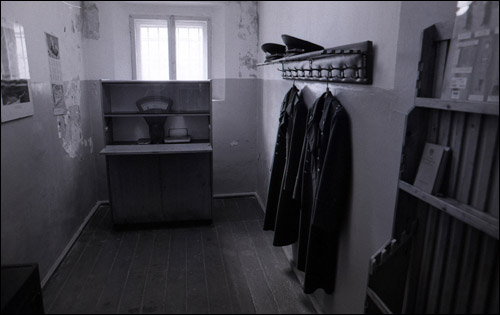 Solitary confinement cells. These corridors are fairly narrow but I still think I could have made a better shot of this.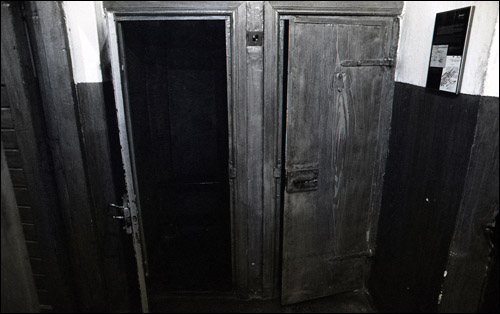 The padded cell. I've seen some things in my time but this is a monstrosity. It was used for prisoners who "resisted or were deranged with torture". Prisoners would be placed in straight jackets when taken to this room.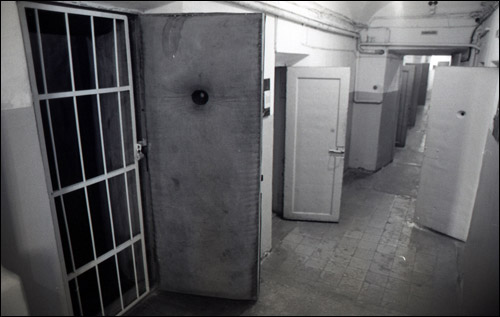 They were allowed to use the toilets once a day. Pretty shabby.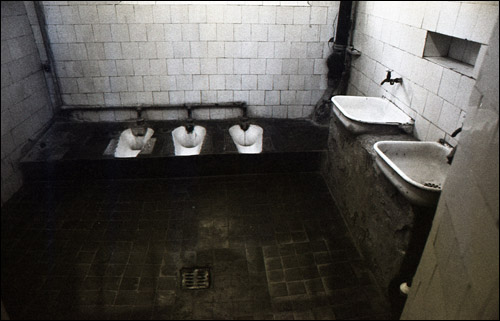 Shower access was once a week.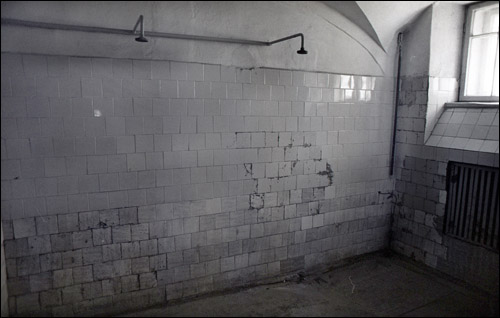 I didn't take any photos of the execution room. It's very different now to how it was when they left it. The museum has put in a raised glass floor to preserve the original, and there is a TV & video player in there (wasn't running at the time). If you visit Vilnius then this is a must see, if only to see what we humans are capable of doing to one another.
The most astonishing thing is there are still secrets to be found here; when the KGB left, two rooms in the basement were set up as a doctor's room and library. When the musem had to repair the heating they realised the floor in the rooms was false. The floor actually sunk and had a small platform in the middle on which to stand, around four inches above the ground. They would fill the floor in ice cold water and put prisoners in the room for days, making them stand on the platform if they wanted to avoid the freezing cold water.
Cathedral Square
I'm not into religion, but this cathedral is damn gorgeous.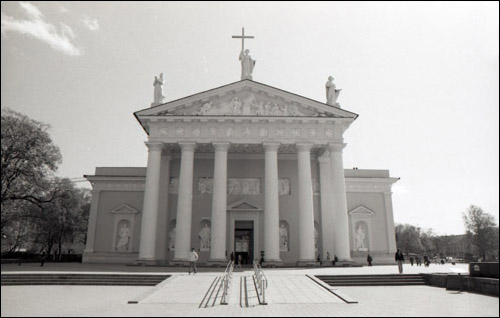 And big. Why are cathedral doors so big?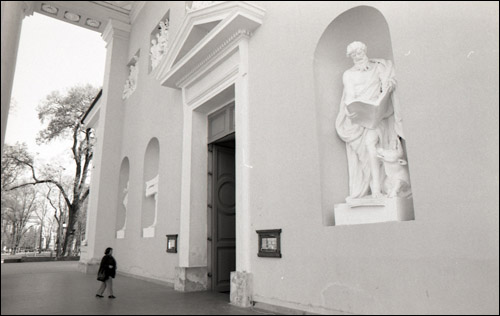 The end….?
During the writing of this blog I made the foolish mistake of upgrading my laptop from Vista Home Premium SP1 to Vista Ultimate SP1. During the upgrade, windows decided to clear everything in my user folder and desktop. I've subsequently lost hundreds of documents, files and folders, making me unable to finish this blog entry. It might have been held up for weeks so I felt I should post it now. Hopefully I'll be able to post the rest shortly.
Viso gero!
Posted in Europe, Travel |

8 Comments »