December 4th, 2009 by

James
Hey hey
16 of us flew from the UK to Jonkoping, Sweden for the Street Fighter IV tournament at Dreamhack Winter 2009. Here is what happened.
Ryanair
Flying from London to Gothenburg.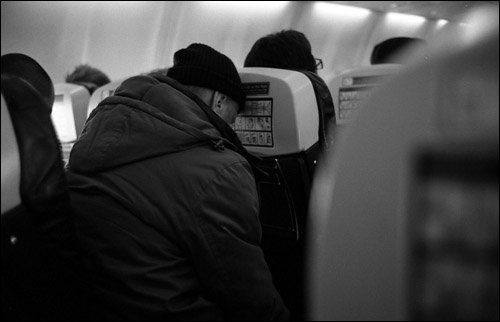 I stood here for ten minutes waiting for her to move her trolley up so I could get some shots.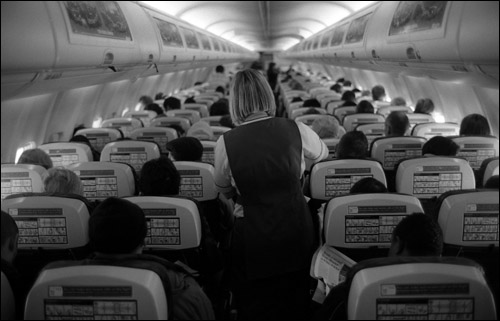 Shau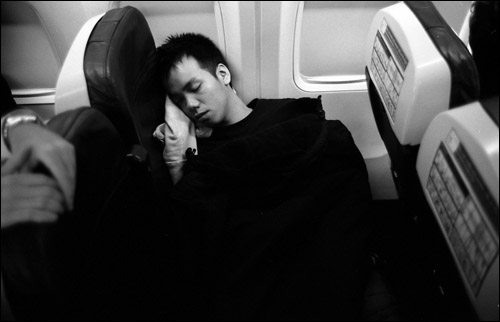 Femi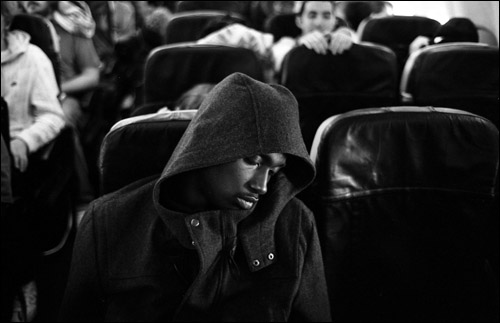 Chunkis, David & Zade. Sleeping on Ryanair is not a comfortable experience.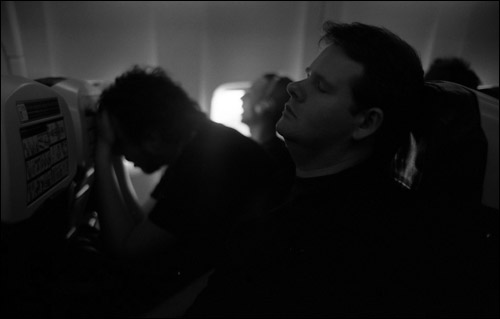 Say aaaaaah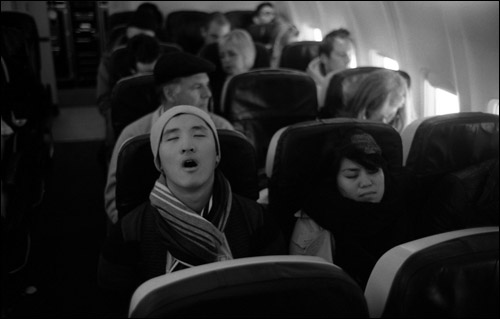 The weather in Gothenburg was actually worse than in London. Wetter and colder.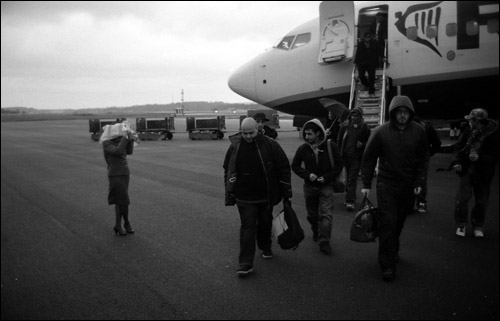 Sweden
For some reason, Dreamhack brought the tournament forward one day from Friday to Thursday, so we had to rush straight from the airport to the event. We were pretty whacked when we got there.
Waiting for the bus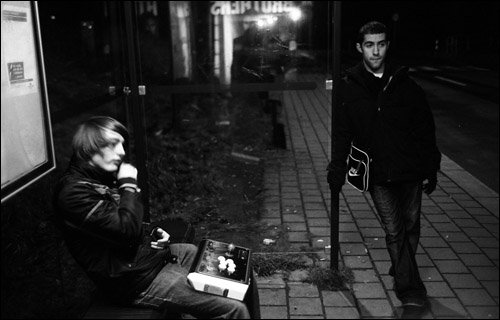 Some of my matches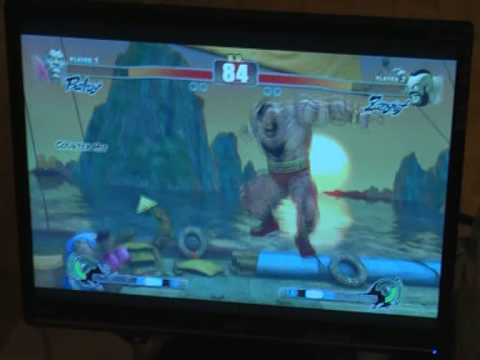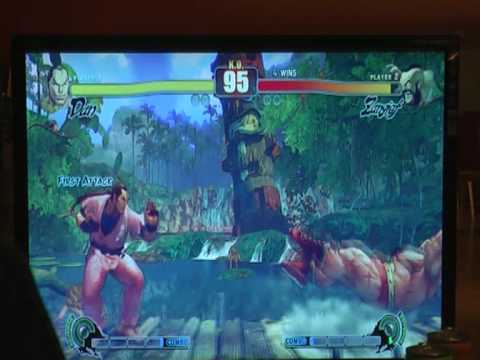 Ryan Gutierrez (aka Gootecks, seated right) and Cami (behind players) were invited over from California by Dreamhack to do commentary on Swedish TV. We played some casuals with Gootecks.
Ramzi & Gootecks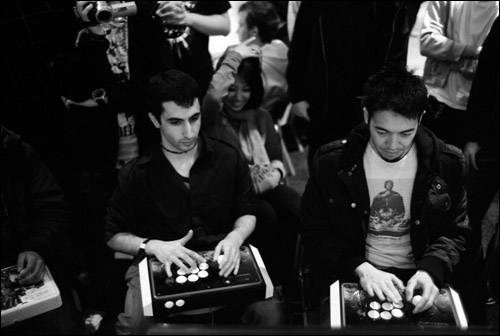 Dawgtanian & Gootecks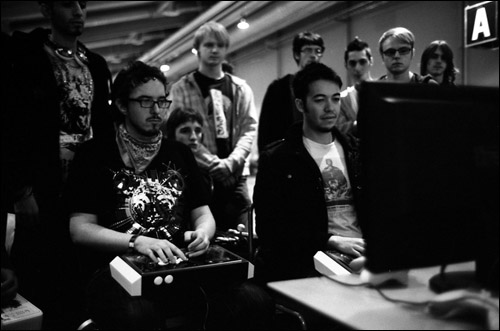 F Word challenged Gootecks to a push-ups match – whoever lost the fight would have to do 30 push-ups. Here is what happened.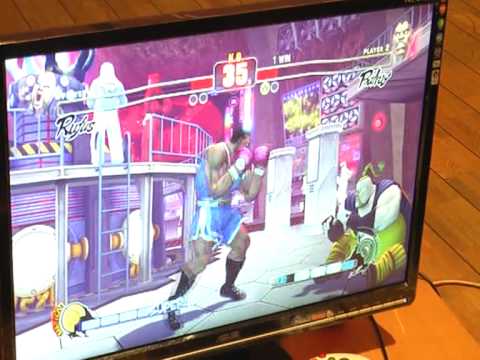 F Word gets on all fours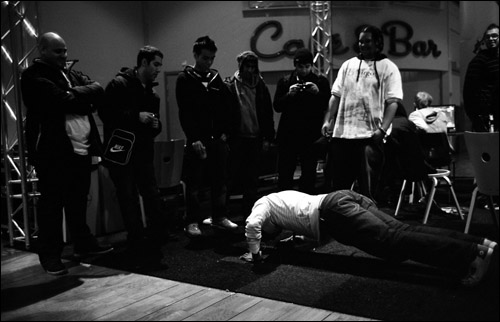 And then tries to escape after one push-up.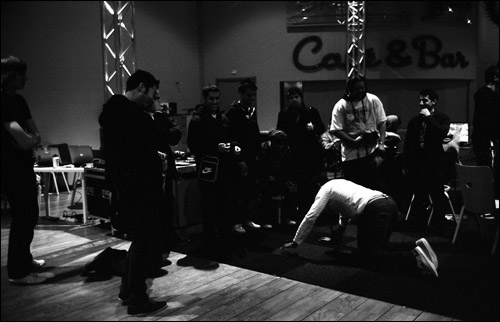 Zak 'The Beastman' Bennet playing his group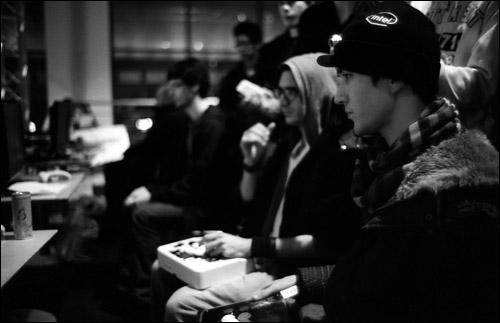 One of Zak's matches.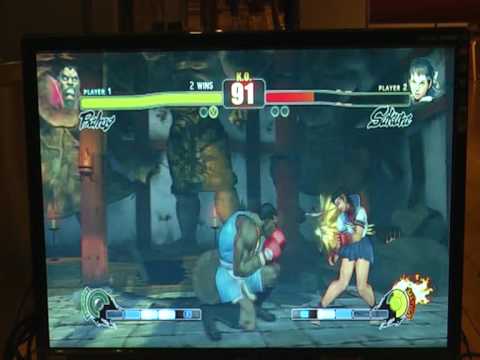 Ryu was in the house, in F Word's group.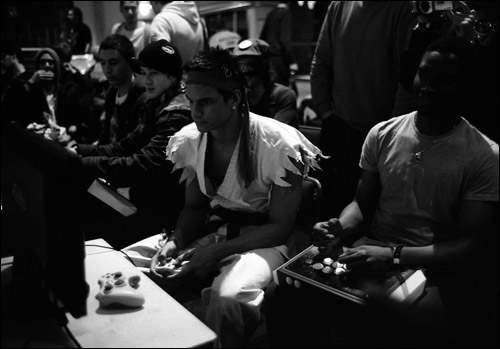 Here is the main bracket after the group stages.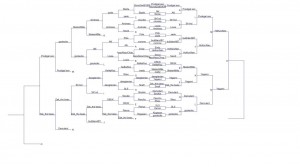 I had Ryan Hart in the first match; one of the three worst draws I could possibly get (the other two being Zak and Gootecks). Here is how our match went. Not great for me by any means.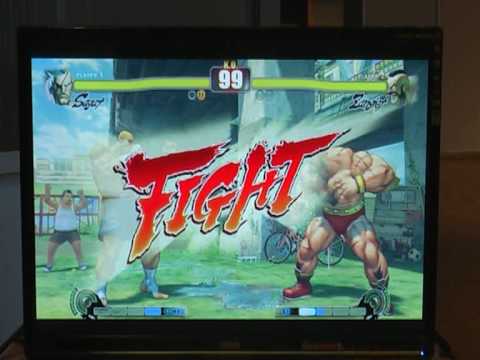 Ryan Hart took down the tournament for the UK, eliminating me, Afii and Zak in the process. It was inevitable we would eliminate each other when 14 of us made the last 32. Pretty good showing by the UK.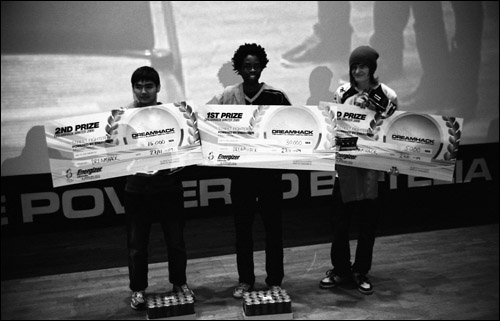 We were front row supporting our guys. We were on Swedish national TV!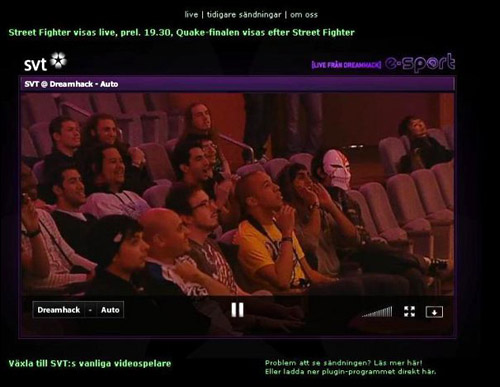 United States of Kingdom
After the tournament, we had a 6v6 against the Swedes. Gootecks represented the UK and Xian joined the Swedish, to give us 'The United States of Kingdom' vs 'Swingapore'. It was great fun and there was a lot of trash talking.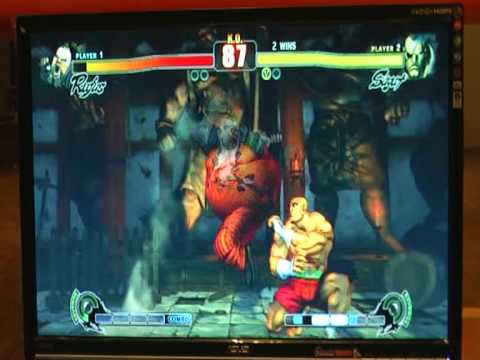 Nom
The wall of microwaves. You could buy a TV dinner and heat it up here in 5 minutes.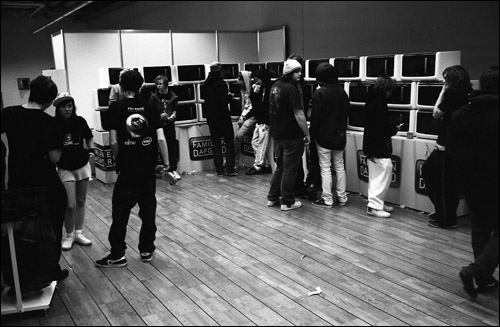 Et voila.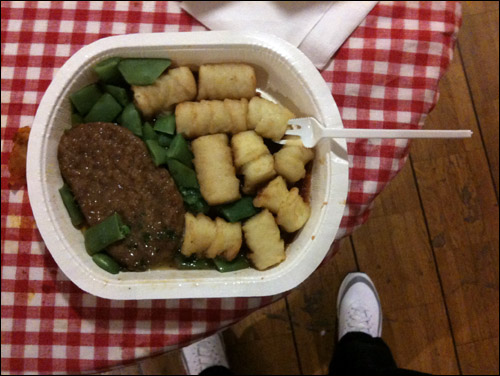 Random guy. It seems a lot of my photos are slightly under-exposed. I need to get used to Leica metering.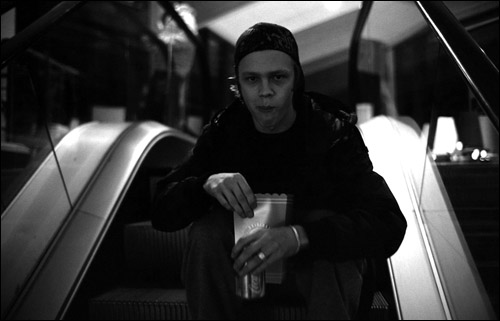 This is Jadi, he has a pretty gangsta joystick.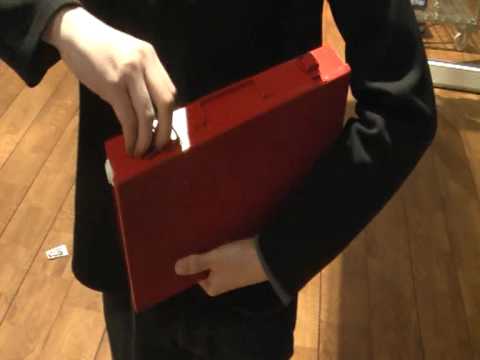 Some kind of card game going on here at 4am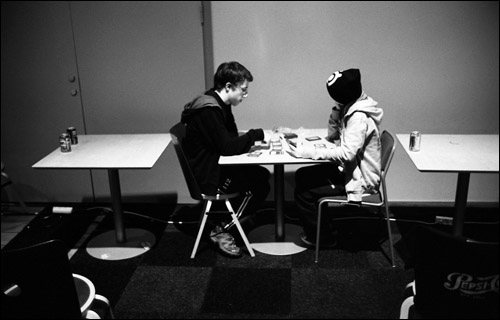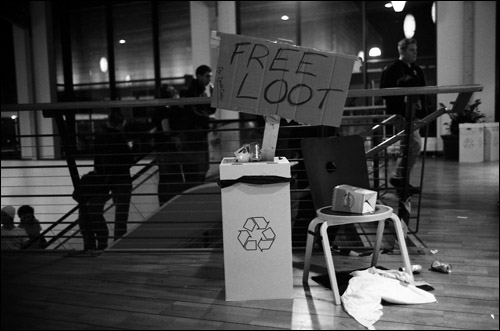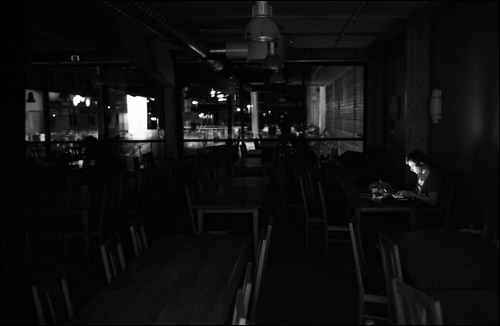 Cami & Gootecks
Cami and Gootecks preparing for a podcast recording with Ryan Hart and Zak.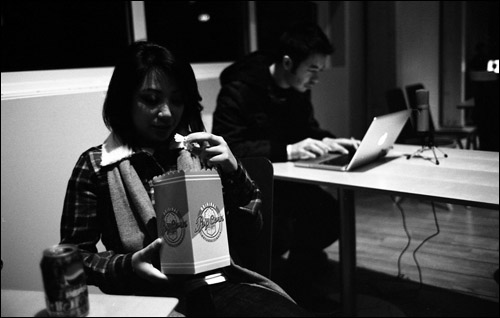 Waiting.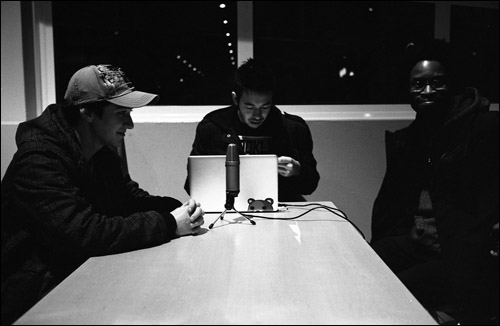 Breaking down what they are to discuss in the podcast.

Podcast time. Zak and Ryan had an interesting debate on the limitations of Street Fighter IV.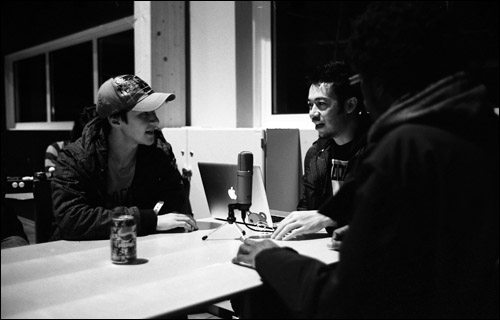 2nd place finisher Ho Kun Xian was really jetlagged.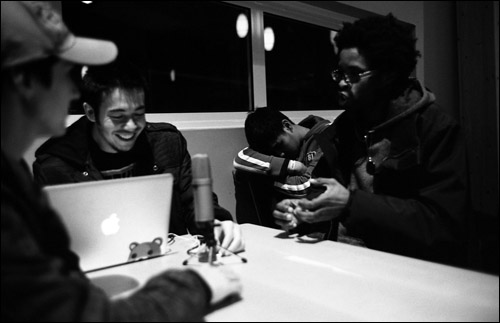 Live studio audience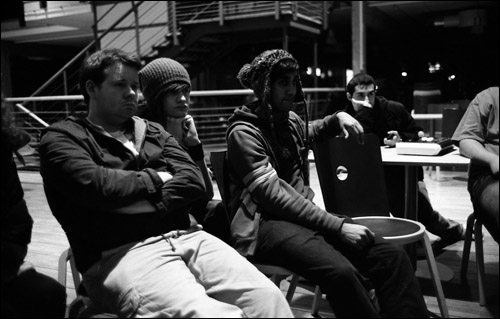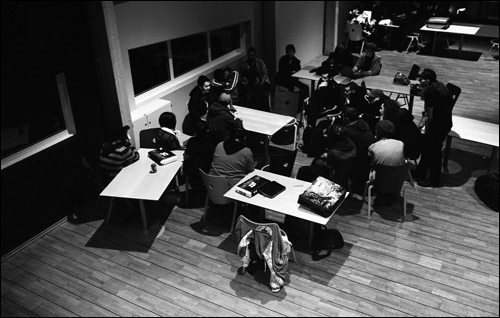 Xian is not very live.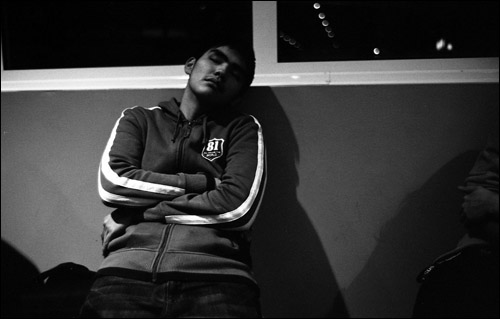 Game over
The last night of Dreamhack, we grabbed a bunch of beers and played Third Strike until 7 in the morning.
Group shot of some of us, some of the Swedes, Gootecks, Cami and Xian before we all hit the road.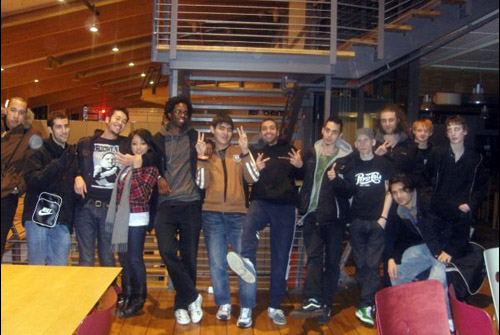 Cami & Gootecks still had the energy to climb a tank. Crazy cats.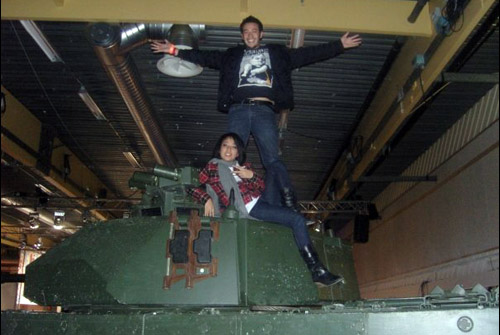 Sleep
Getting the train back to Gothenburg to fly home.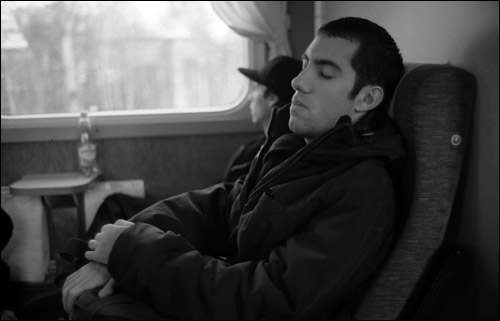 We met Jenny on the way to Gothenburg; she was on her way to pick up her son from kindergarten. She speaks five languages but is not available for marriage. Sorry chaps.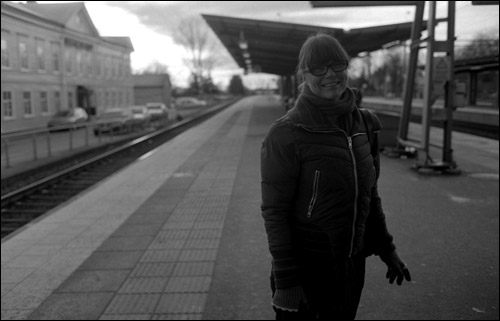 The others were still in Jonkoping when we got to Gothenburg, so we waited for them at the internet cafe.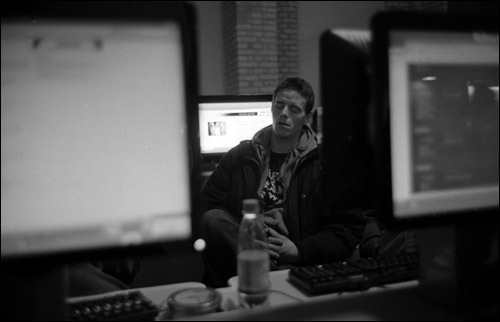 Is everyone asleep in Sweden?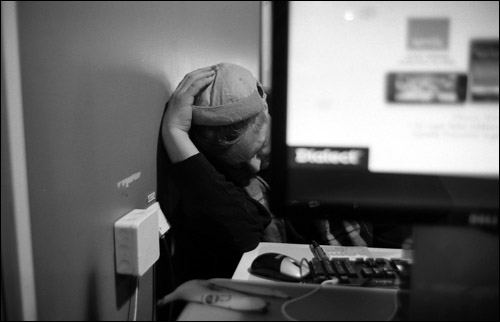 Seems so, but some are still keeping busy…

Geeky stuff: Leica M6, Leica 35mm 1.4 Summilux, Kodak Tri-X +2. Panasonic SDR-H250 video camera.
Posted in Europe, Events, Gaming |

7 Comments »