July 8th, 2006 by

James
I generally dislike blogs, which is why this is interesting. I'm not really one to read about the ups and downs, and downs, and downs and more downs of people's lives in their journals. But photoblogs are quite interesting, and I thought people might like to see what I do with my cameras; you only see a small portion in the gallery.
So here it is. I think I'll start writing from last weekend, at the EuroPride event.
EuroPride 2006
Every year, EuroPride takes place in a different city in Europe. It's basically a celebration of Gay & Lesbian culture.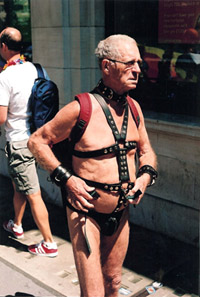 First thing I saw when I got there was the chap above. I thought that was pretty brave. Doesn't he look like a Science teacher?
The protest was quite long. At the front was a huge rainbow banner. It was about 200 metres long. Then came the gay police association, then came all the floats, trannies and firemen. Hooray for firemen! The trannies were the ones that stole the show. They were out in full force, all determined to be the most stunning.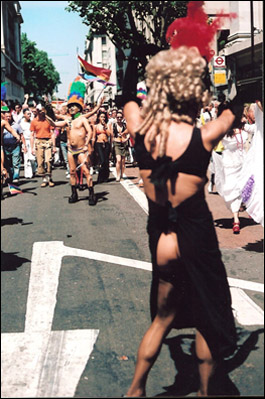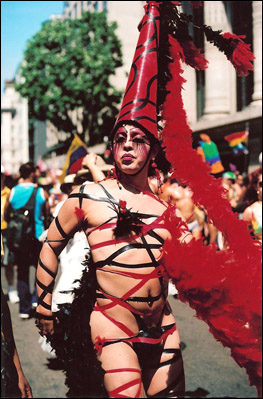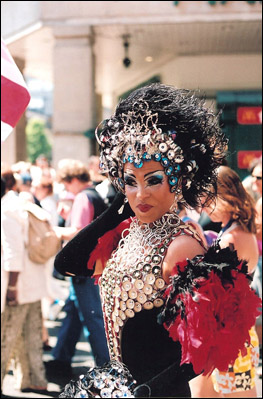 For me, the winner was this lovely girl on the tropical trannies float. This look could make a weaker man walk straight into a lamp post.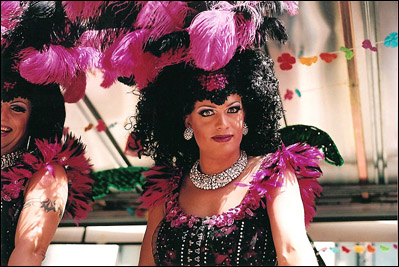 All in all, it was a great parade. Best parade I've ever been to. You can see some of the other shots in the gallery.
Posted in Events |

2 Comments »