Walking home through South London today, I'm approaching Southwark tube station and I see a group of scattered teenagers crossing the road in my direction. One looks behind him with a beaming smile and bellows: "Don't look so pretty now!". I cross the road and see who he was talking to: a girl with a cut under her left eye, in hysterics. Her t-shirt is splattered with her own blood while London bystanders hover in her vicinity and observe the goings on, not offering any assitance.
Not that I offered to help. I did not see anything happen, and the cut looked worse than it actually was. I just wished I had one of my cams on me.
Yesterday I went cycling to Richmond Park. On my way there i'm crossing Putney Bridge and I see this scene….which you can not really see here. There is a man sitting on the edge of the bridge. A calculated guess would say he is threatening suicide. He was pulled back over by the fire brigade / police. I only had my nokia n80 on me to take photos with.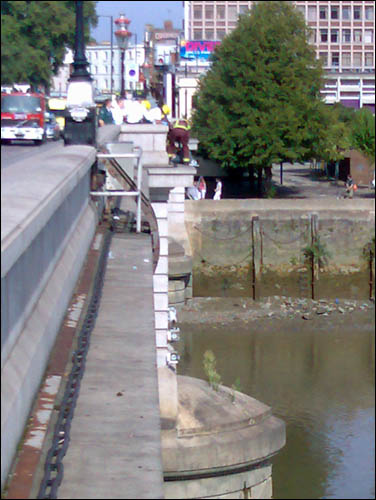 This is what happens when you use optical zoom. I could have gone closer, and I would have if I were not on my bike. Ah well, he's not going to kill himself, may as well go to the park.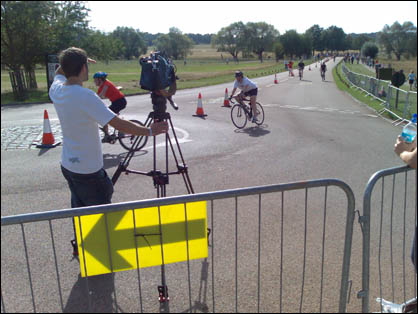 I go to the park, only to find a smegging DUATHLON event going on, and all I can do is take a shot with my smegging camera-phone.
There is a lesson to be learned from this entry..
---
Did you enjoy this post? Why not leave a comment below and continue the conversation, or subscribe to my feed and get articles like this delivered automatically each day to your feed reader.