April 1st, 2009 by

James
Highlights from the G20 demonstrations around the Bank of England. 1st April 2009.  I think the sheer volume of photographers had a distinct affect on certain events, such as the rioting, where there the photographers almost outnumbered the protesters in parts.
Giddy up
Four 'Horses of the Apocalypse' made their way to the Bank of England from various local parts of London. I went to have a look at the one coming from Cannon Street.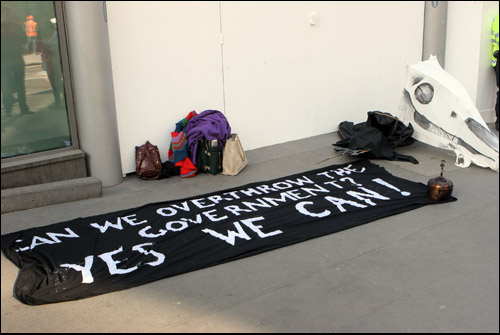 Curious object to bring to a protest.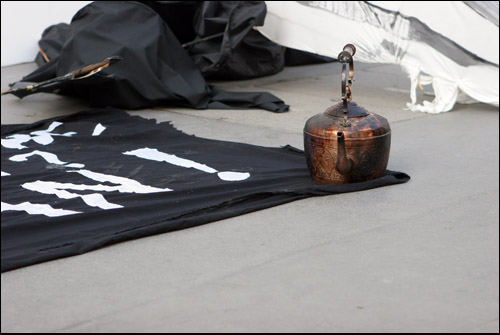 Police were out in force today. The entire operation cost £7,200,000.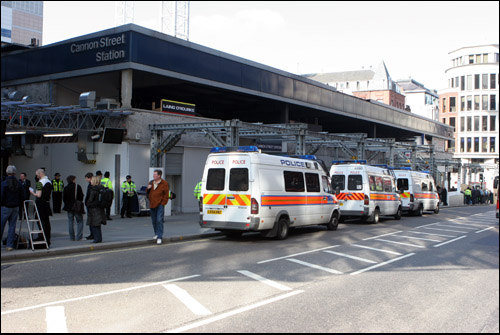 Random people being interviewed.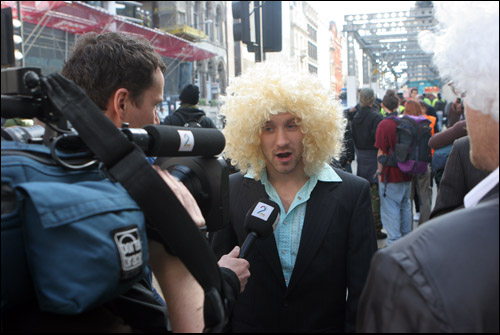 London Bridge
Cannon Street looked pretty quiet so I jumped on a bus to London Bridge.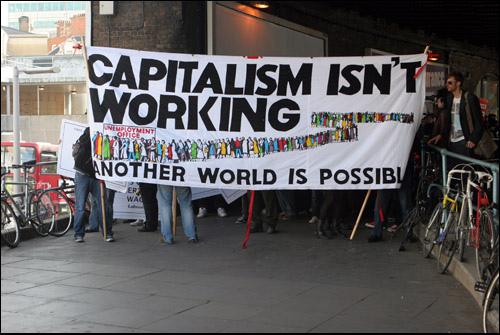 This chap was a controversial professor and one of the leaders of this march.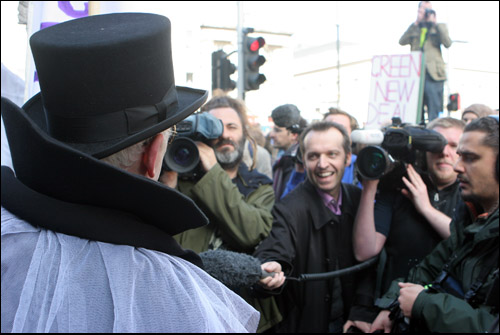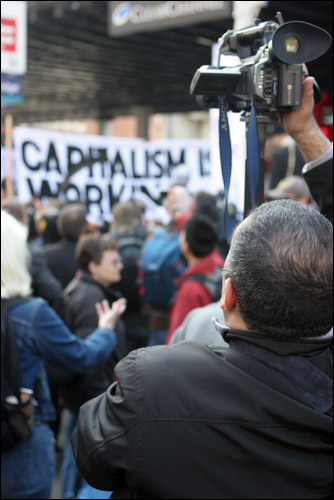 Cameras everywhere.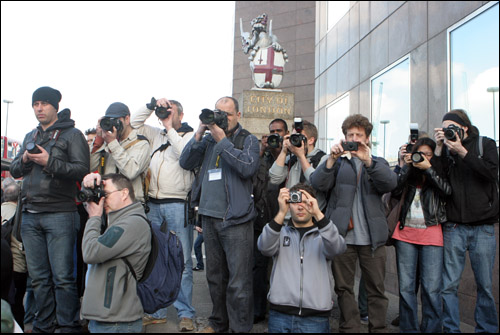 The march took off from London Bridge Station across London Bridge, blocking half the road.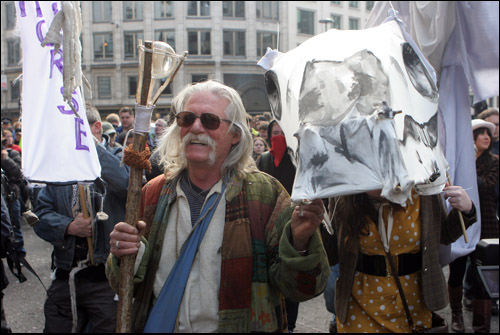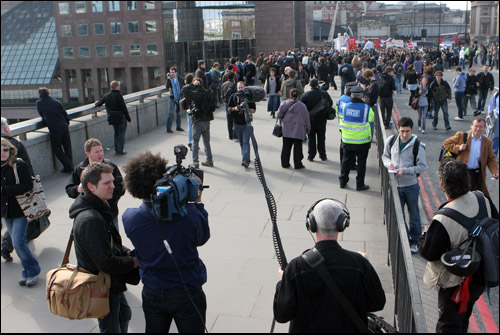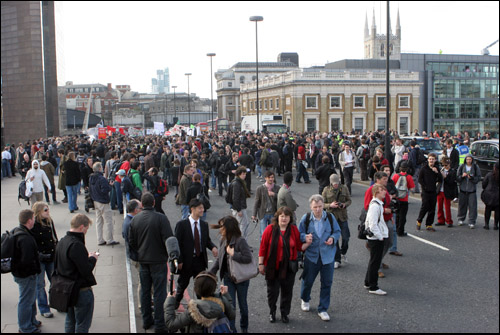 Coffins and effigies of bankers were carried.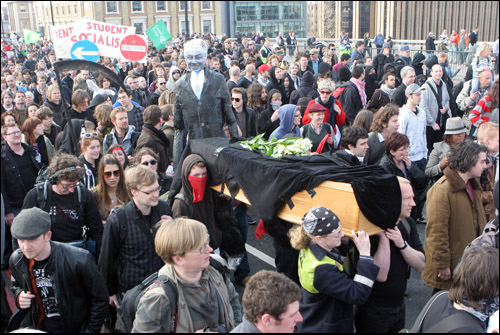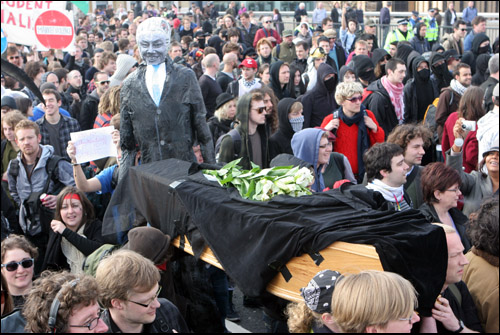 Random couple stuck in the people traffic.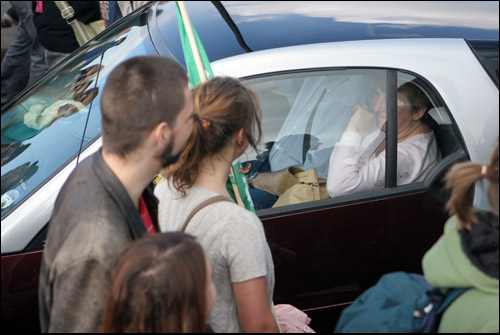 I was standing on the rail leaning against the only post available. This guy had to use his friends as a tripod.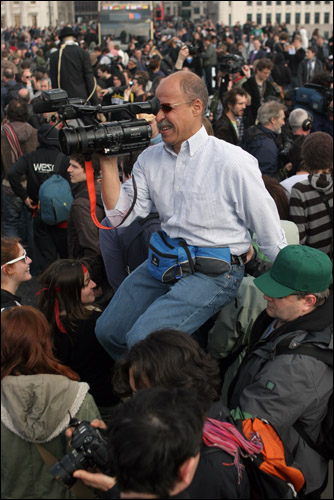 Never seen a camera like this before.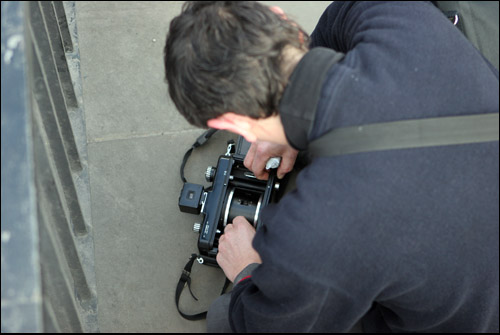 A suited man in a taxi was caught among the mayhem and must have had his picture taken 500+ times. Shame I didn't get the whole sign in.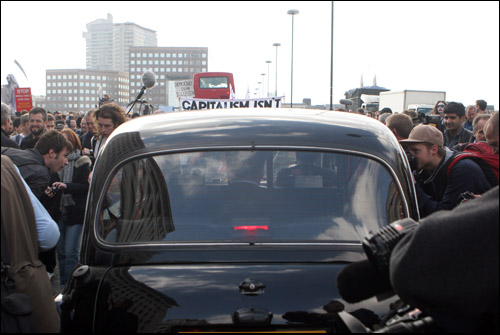 Spot the thumbs up for the photo.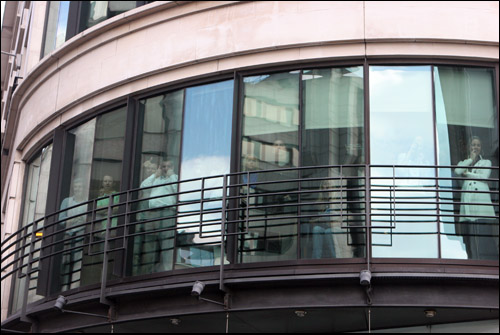 Bank of England
The march has reached its destination.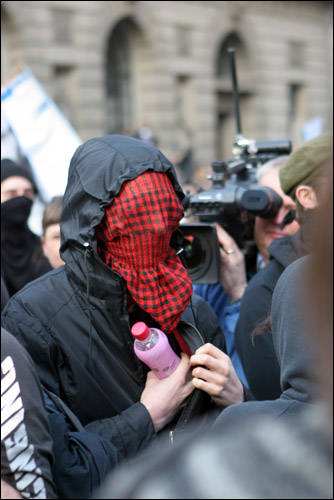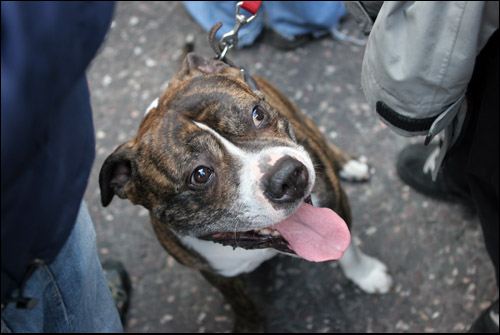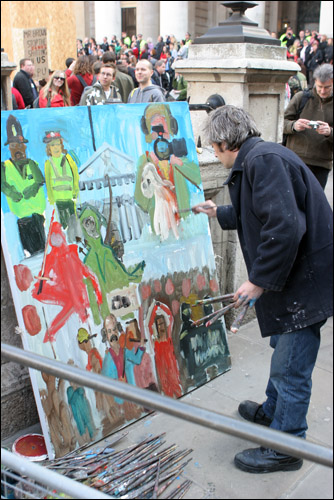 Public Transport here was closed. This policeman is a bit shy.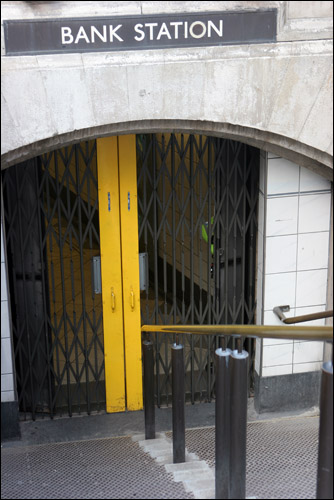 Photographers jostle for position.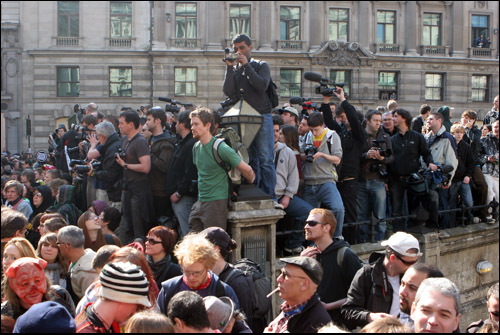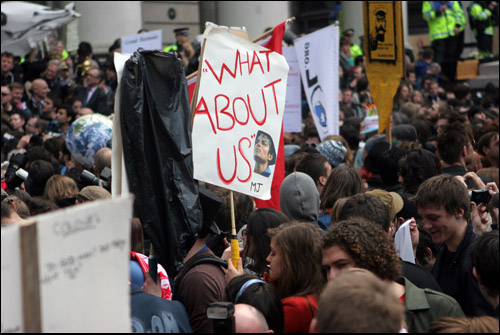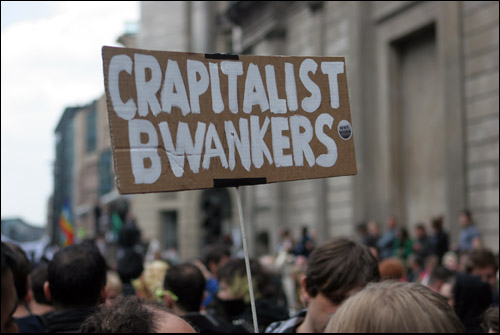 Once everyone was in, they were not allowed back out again so people had to use makeshift desks.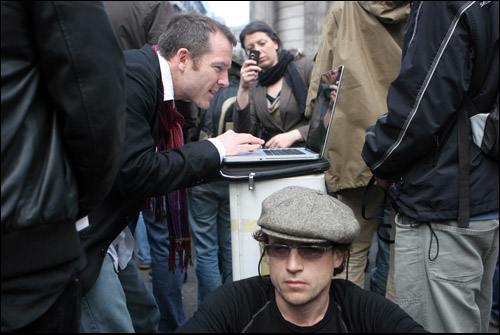 Anonymous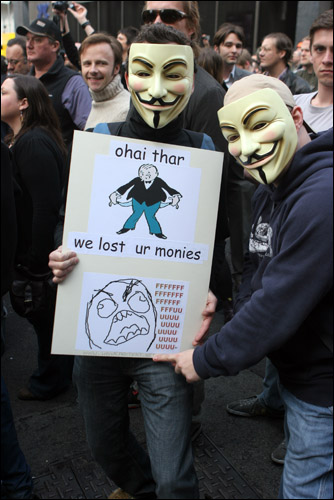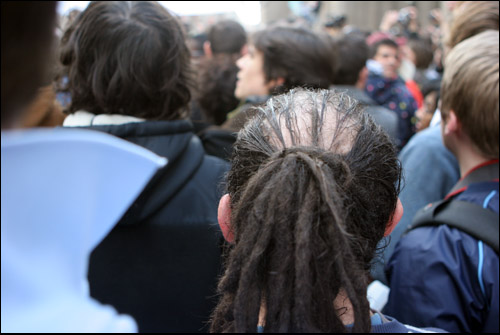 Protesters charge a line of police in the distance. The police had to concede position and move to the side.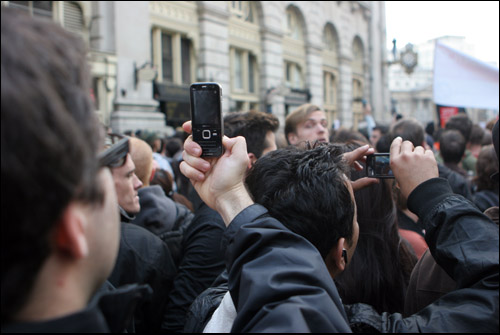 RIOT
The crowd started charging, throwing debris at the Constables and stealing their hats so the Riot Police were brought in.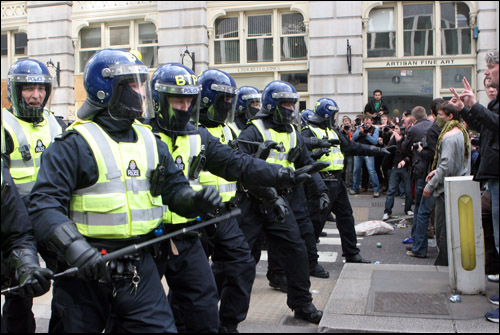 The crowd tried to charge the riot police. Not as easy. The guy on the right here got popped.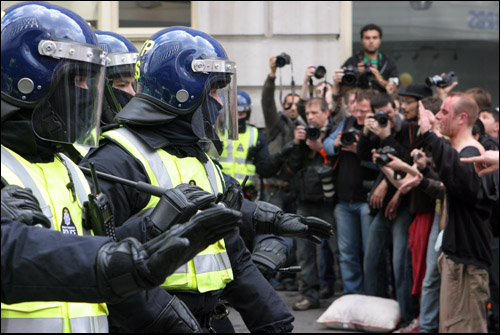 Photographers lost a few items.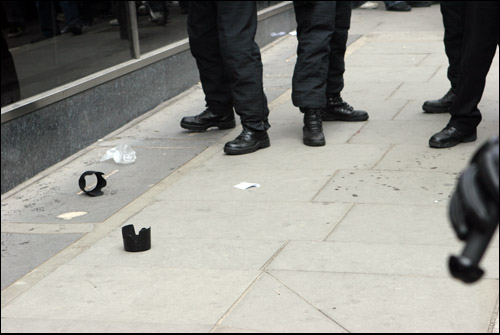 These items were missiles.

The Royal Bank of Scotland
RBS took the worst of the riot.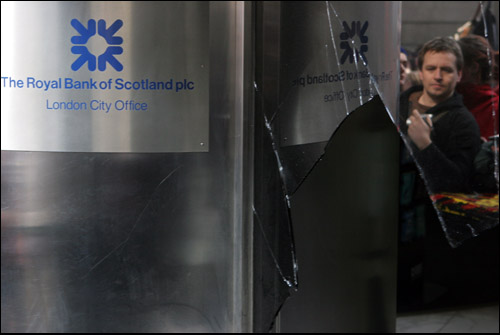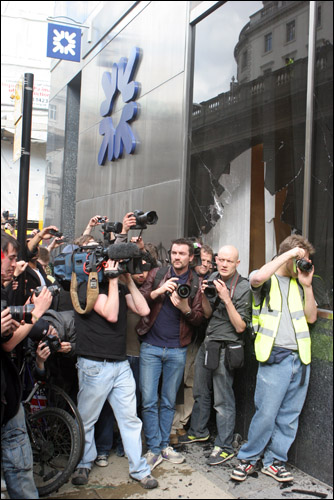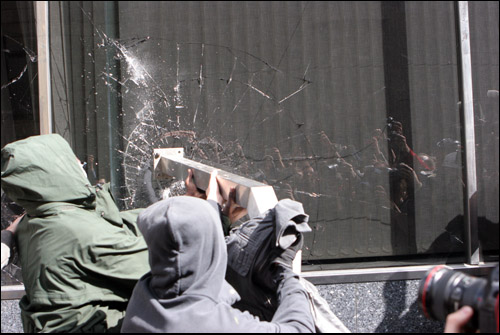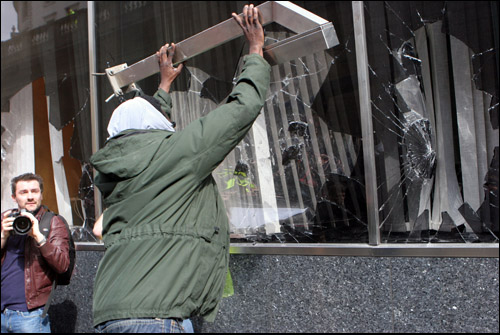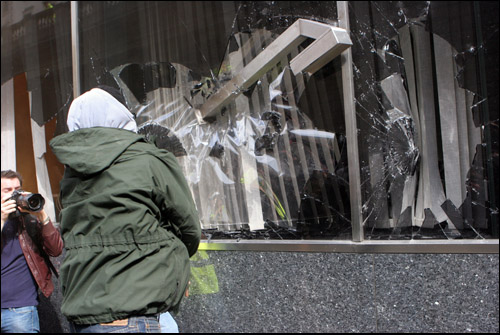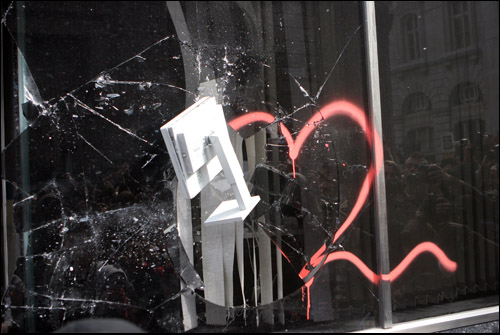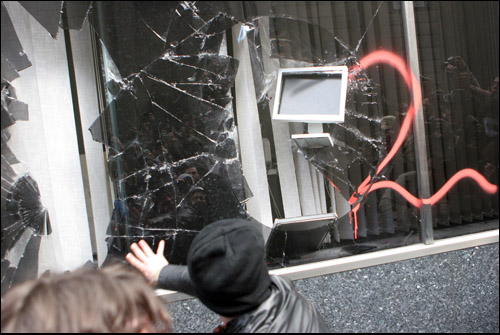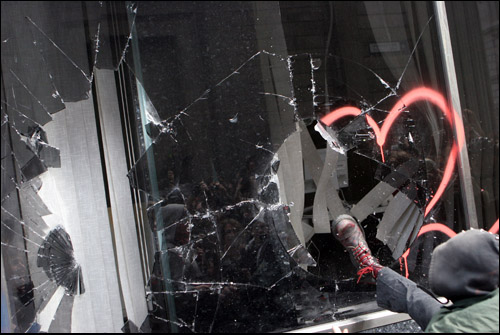 Photographers review the action they caught.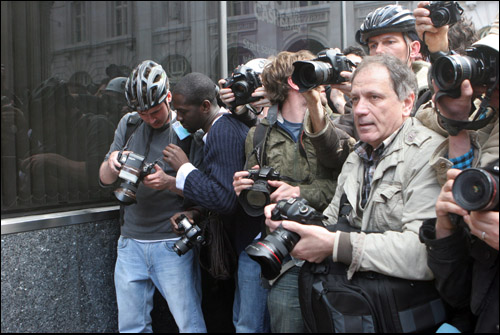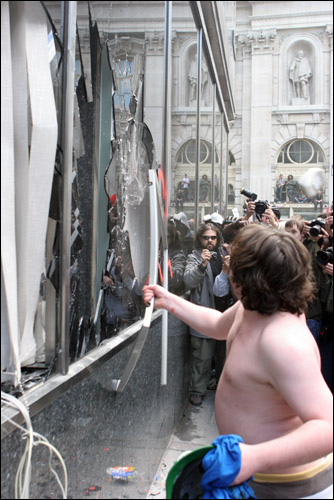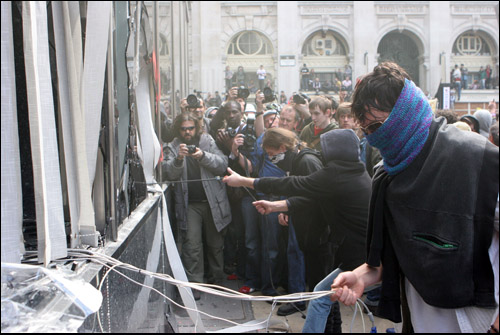 Police occupy the building and record the people outside.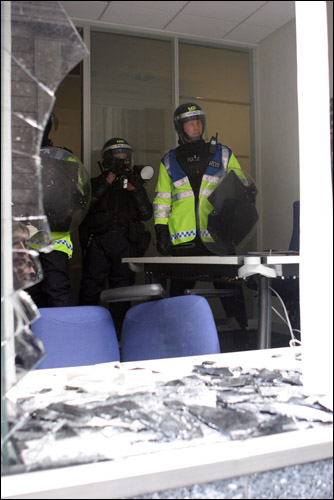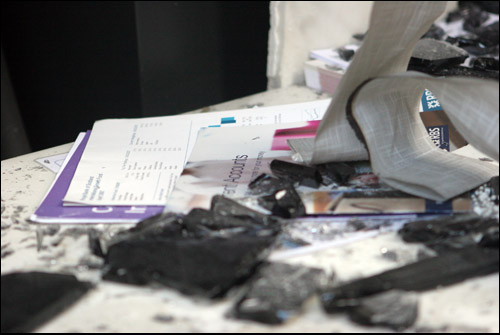 Attempts were made to set fire to the curtains before they were ripped out.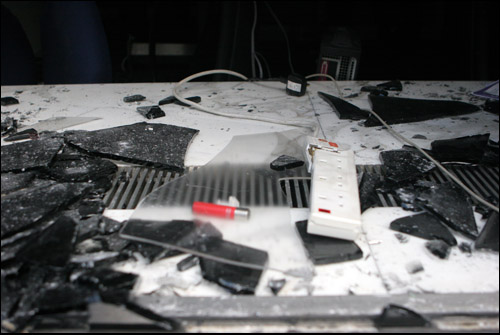 Note: This is outside the offices. Dial 0 for reception?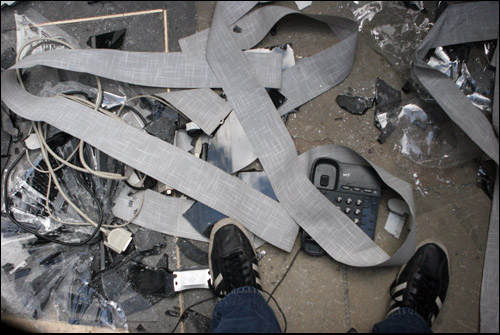 A policeman guards a colleague's head as she takes some water.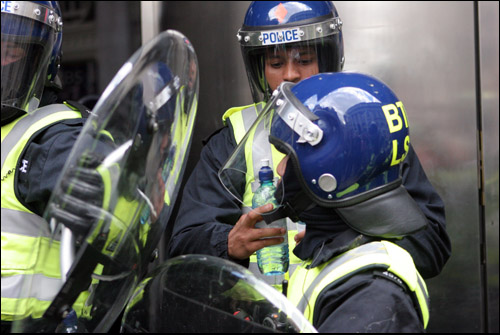 They wear helmets with good reason.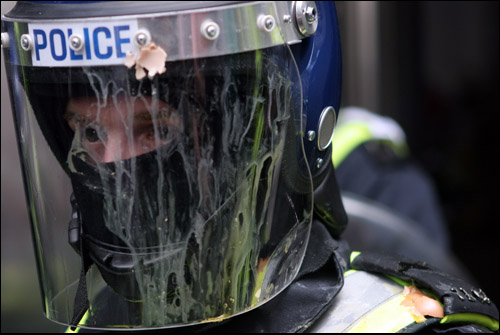 Stalemate
All except people with "Home Office approved Press Passes" (?) were not allowed to leave the area around the Bank of England for some time, so they found other things to do.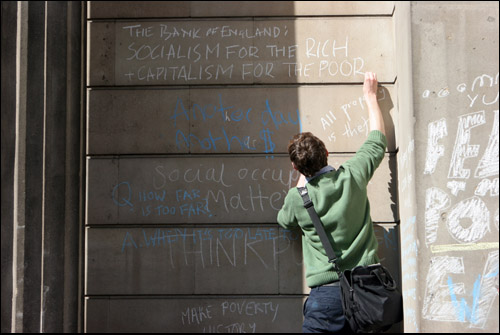 Why so serious?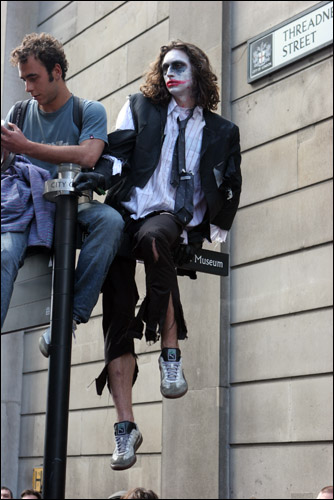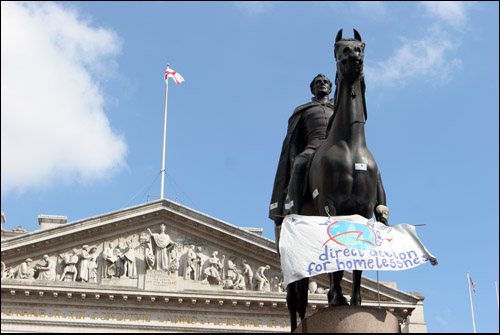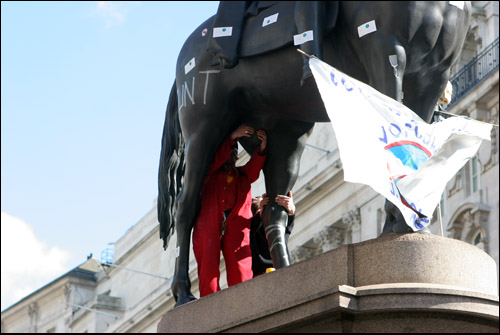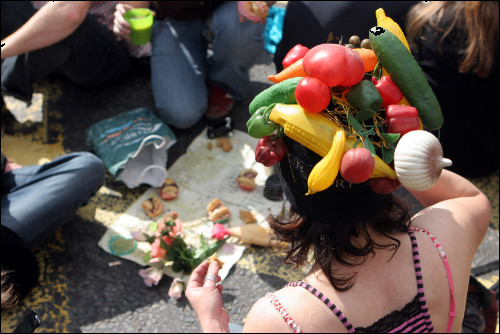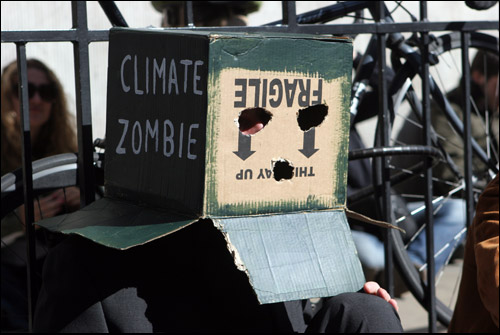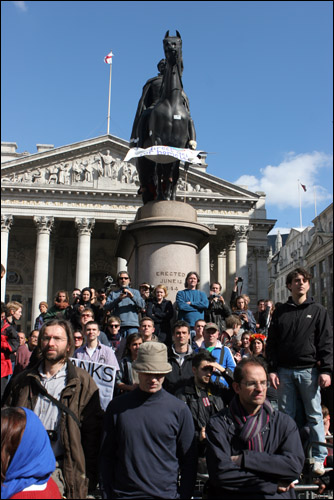 'Hammocks not hate'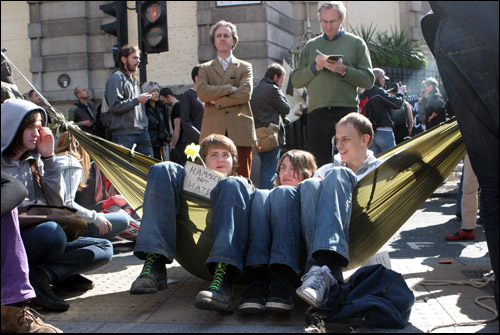 After a few hours most people were allowed to disperse in the direction of Trafalgar Square. Overall this part of the protest was calm, but once people realised they were next to RBS all hell broke loose in a small pocket of the overall gathering. We'll see if they got their points across…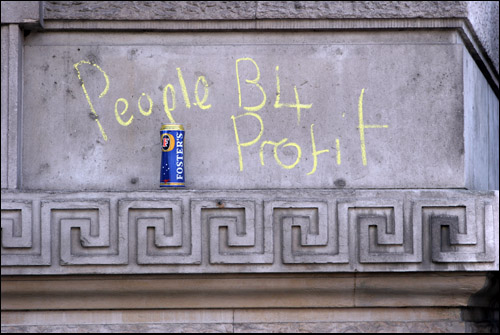 Geeky stuff: Canon EOS 20D, 24-70 f2.8 lens
Posted in Events |

11 Comments »