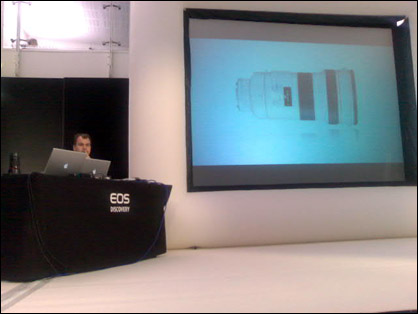 Last thursday I went to the EOS discovery event in London. The editor of photography monthly was there taking snaps – if he puts any of the crowd in the magazine, then you will see me at the front of the crowd.
The editor of Amateur Photographer took us through the history of EOS, and the history of Canon. Did you know their first camera was the Kwanon?
Anyway, to the right of the picture on the stage was a studio setup, where Andy Earl did some demonstratins for us, and told of his experiences dealing with certain clients. Very informative man! I learned a lot from him in a very short space of time. He showed us some excellent techniques with flashes which I will try in the future.
He demonstrated various lenses to us – fisheye, 70-200mm, 300mm, 600 mm, 180mm macro and maybe a few others.
Canon had some video presentations for us; a photojournalist trying out the 30d. Can't remember his name or what country he was in, might have been Morocco. In any case it was very good. There was a video presentation of the EOS 1D MKII N, with a sports photographer at Queen's tennis club. That was quite interesting. the Mark II N is what you want if you're a sports / news guy because of the fps. Andy explained photojournalists need this to catch George Bush falling down the steps of an airplane.
Apple have a partnership with Canon – a representative was there to demonstrate the 'Aperture' software to us. I will definitely be using that when I get a macbook.]
Snap of the Arab, just because.