Geeky stuff: Canon EOS 3, 35mm lens, Kodak Tri-X 400; Canon EOS 20D, 10-22mm lens; Nokia N95 for video

Highlights from Anonymous' protest against the Church of Scientology, March 15th 2008. I was shooting in B&W with my film camera which explains the silly mix of B&W and colour images. Forgive me.
Following on from the festivities at the February 10th protest, Anonymous are back to 'celebrate' L. Ron. Hubbard's birthday, which was Thursday March 13th.
Queen Victoria Street
Two Anonymous have arrived 90 minutes early; this appears to be the physical equivalent of "First comment!"

While waiting for arrivals by Blackfriars Station I noticed these.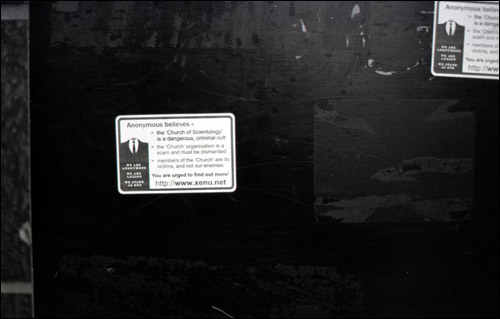 Cropped version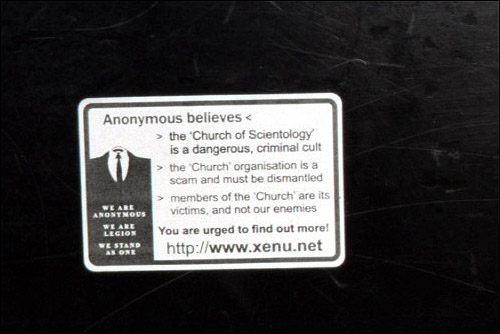 Anonymous arrive.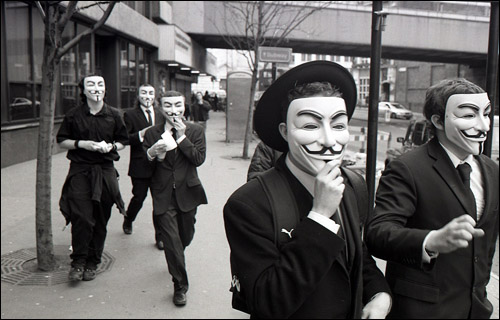 Nice City Policeman greets Anonymous outside Blackfriars Station to explain what the City Police are here to do and what they are not here to do.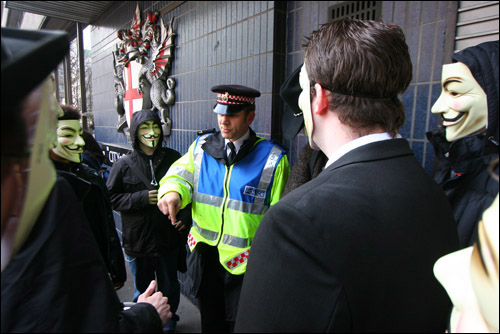 Anonymous responds with an offering of Fox's
.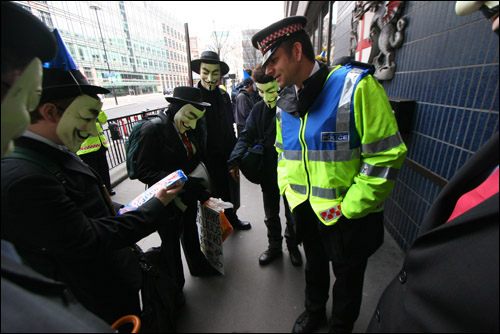 City Policeman is hypnotised by the gift and accepts. How could he refuse?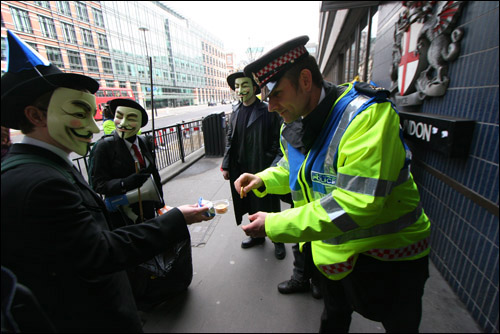 Cake for everyone.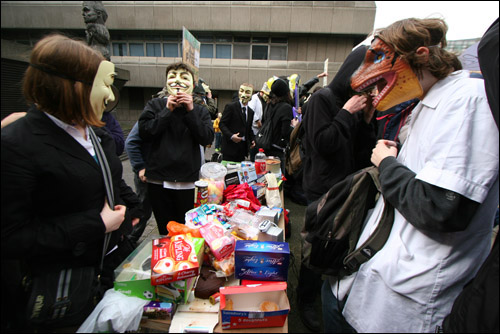 Mr Doublecakeanonymous here has a weighted companion cube cake. THE CAKE IS REAL!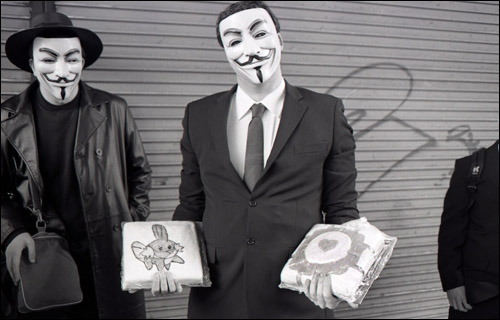 Miss Anonymous notices a strange reflection.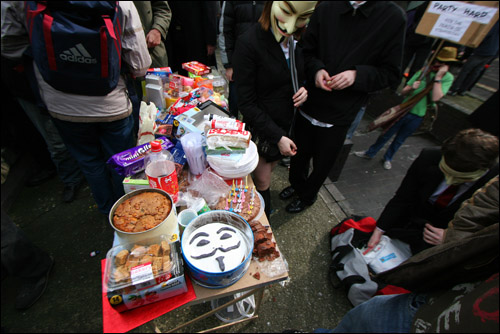 Today's turnout walked all over previous figures. I couldn't fit everyone in one shot.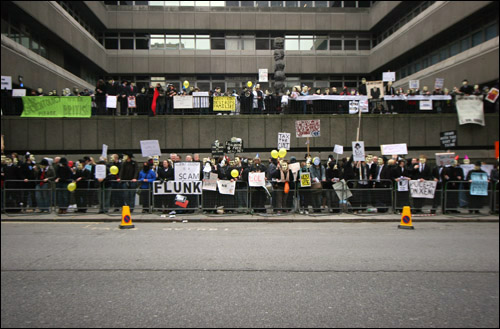 This is the first floor of the Church of Scientology's building. Anonymous gave them a wave and a cheer.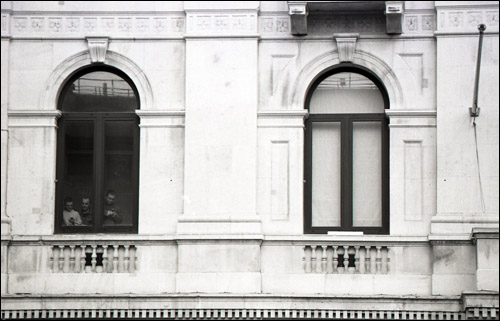 Anonymous placards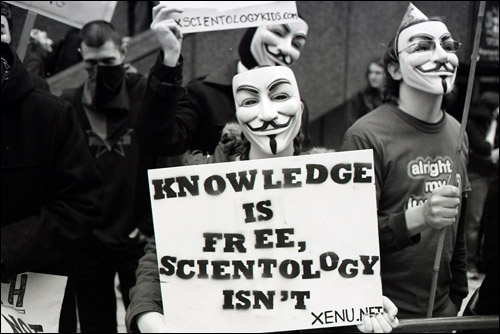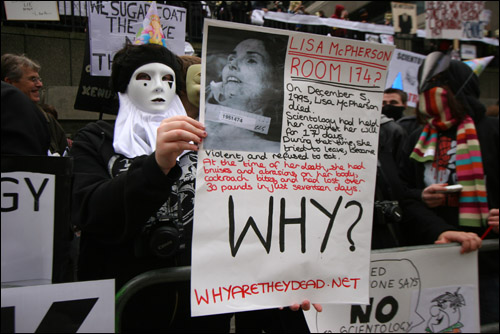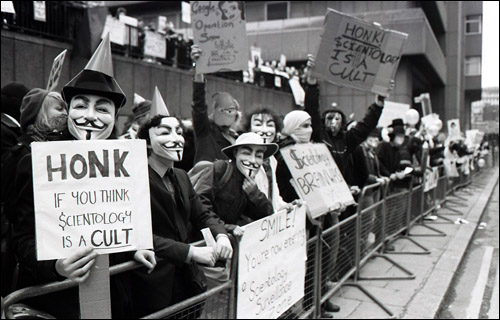 Tottenham Court Road
Tottenham Court Road is where things got really interesting. The road is a lot narrower than Queen Victoria Street, there is a huge amount of footfall (public passers-by) and Anonymous are concentrated into a much smaller area.

More Anonymous placards.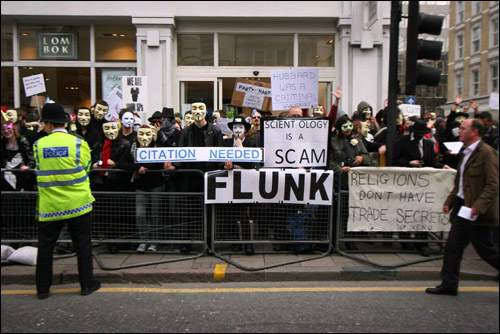 The memes were out in full force.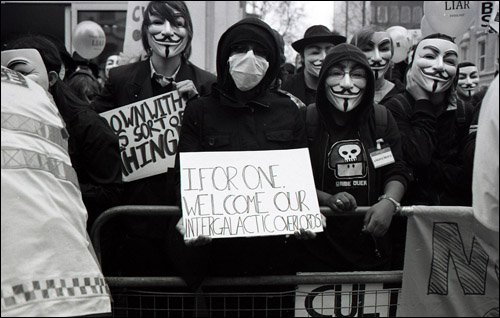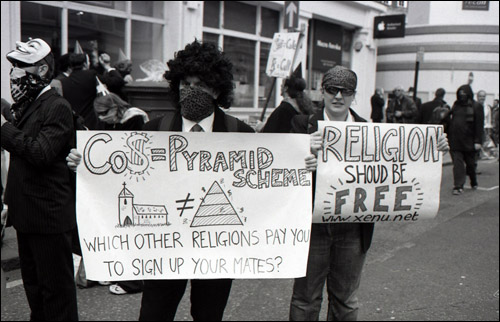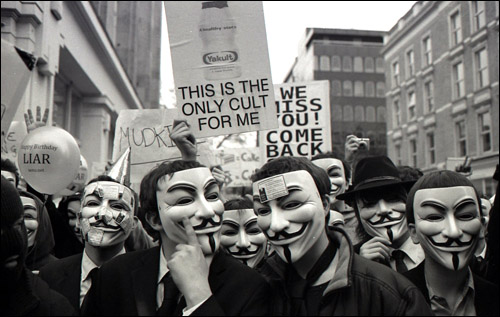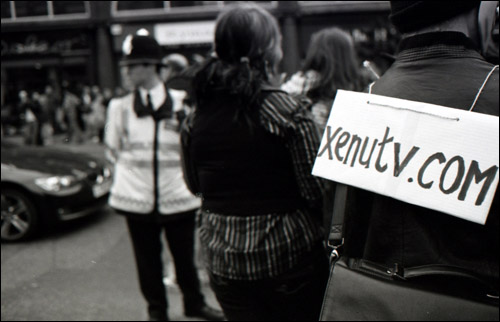 Two doors to the right of Scientology's branch is a branch of KFC. One of the most amusing chants had everyone pointing and went: "THAT IS A CHICKEN! THAT IS A CULT! THAT IS A CHICKEN! THAT IS A CULT!"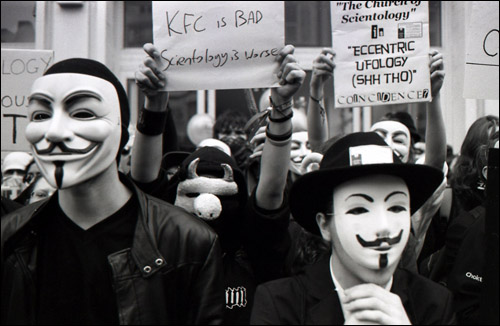 Quite fond of stickers is this one.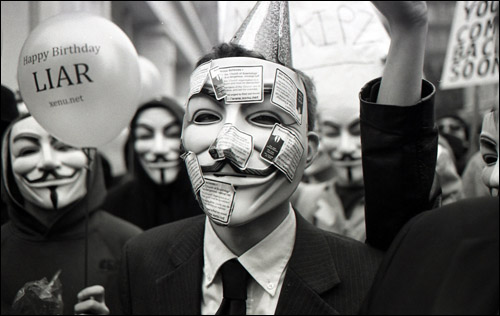 Cake had successfully made it to Tottenham Court Road. "It's so moist and delicious", said one Anonymous while offering cake to me.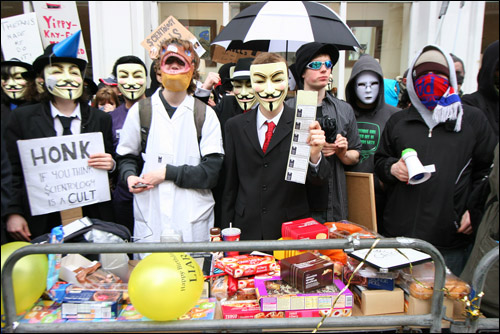 Anonymous came, Anonymous protested, Anonymous remained anonymous.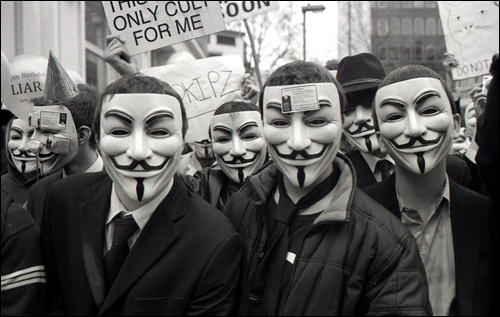 Response
In order to provide a more balanced report on the day's events this time round, I asked a Policeman if I could enter the building to ask the staff if the organisation had an official response to Anonymous' protests. The policeman rejected my request however he did go in on my behalf.
A Scientology volunteer came out (to boos) and provided me with an email contact whom I could pose my questions to. Scientology's statement follows.
Dear James,

Following is our response. I also recommend you go to www.anonymous-exposed.org for more specifics.

ANONYMOUS – HATE CRIMES AND
TERRORISM DIRECTED AT SCIENTOLOGY

Since January 17, 2008, "Anonymous", a group of cyber-terrorists hiding
their identities behind masks and computer anonymity, has targeted the
Scientology religion, its Churches, leaders and parishioners with hate
speech and hate crimes.

To inform "Anonymous" members who may be unaware of the criminal acts
committed by their leaders, and to prevent others from being misled by
"Anonymous'" propaganda, a video has been produced to provide the facts.
The video reveals "Anonymous'" repeated incitements to hate and violence.

The Church has not interacted with these "Anonymous" individuals nor does
it desire to. However, death threats and threats to plant nitroglycerin
bombs in Churches have made it necessary to take security precautions and
identify members of this group responsible for these crimes.

A copy of our documentary can be seen at www.anonymous-exposed.org.

If you have any further questions, please let me know.
Aftermath
Another peaceful protest from Anonymous. I'm glad I asked for and received a response from Scientology this time round so both sides were able to voice their opinion. Anonymous distributed cake and leaflets to the general public. They made themselves heard. As I approached Tottenham Court Road I saw the general public walking away from the protest clutching Anonymous leaflets, reading them out loud and discussing Anonymous' beef with Scientology. Anonymous' message is certainly getting out there.
Looking at Scientology's response and their claims of threats against them including Nitroglycerin bombs – if you consider their history then I think it is fair to say they suffer from 'boy who cried wolf' syndrome. Because of past failures, what they say must be taken with a pinch of salt. It's hard to trust the words of an organisation that has previously conducted such exercises as 'Operation Snow White' and 'Operation Freakout'.
Is Anonymous a collective of Nitroglycerin bomb-threatening eTerrorists? You decide.